It's over. An entertaining affair. Manchester United are up to fifth. Lampard and Ten Hag shake hands politely. Lampard then goes and shares a joke with Casemiro.

","elementId":"583bcfab-b4e2-46fc-8e17-45647791b5bd"}],"attributes":{"pinned":false,"keyEvent":true,"summary":false},"blockCreatedOn":1665345246000,"blockCreatedOnDisplay":"15.54 EDT","blockLastUpdated":1665345303000,"blockLastUpdatedDisplay":"15.55 EDT","blockFirstPublished":1665345303000,"blockFirstPublishedDisplay":"15.55 EDT","blockFirstPublishedDisplayNoTimezone":"15.55″,"title":"Full-time! Everton 1-2 Manchester United","contributors":[],"primaryDateLine":"Sun 9 Oct 2022 16.01 EDT","secondaryDateLine":"First published on Sun 9 Oct 2022 13.02 EDT"},{"id":"634323628f085c1507510eef","elements":[{"_type":"model.dotcomrendering.pageElements.TextBlockElement","html":"

That was always the danger for Everton … is that it … but hang on. He's been pulled up for handball. No goal.

","elementId":"6e8bf879-0850-4878-a45d-060d6c58a323″},{"_type":"model.dotcomrendering.pageElements.ImageBlockElement","media":{"allImages":[{"index":0,"fields":{"height":"2090″,"width":"3483″},"mediaType":"Image","mimeType":"image/jpeg","url":"https://media.guim.co.uk/b15543fc7bfadfd1299ca2d6a22127499ee6d2a3/0_150_3483_2090/3483.jpg"},{"index":1,"fields":{"isMaster":"true","height":"2090″,"width":"3483″},"mediaType":"Image","mimeType":"image/jpeg","url":"https://media.guim.co.uk/b15543fc7bfadfd1299ca2d6a22127499ee6d2a3/0_150_3483_2090/master/3483.jpg"},{"index":2,"fields":{"height":"1200″,"width":"2000″},"mediaType":"Image","mimeType":"image/jpeg","url":"https://media.guim.co.uk/b15543fc7bfadfd1299ca2d6a22127499ee6d2a3/0_150_3483_2090/2000.jpg"},{"index":3,"fields":{"height":"600″,"width":"1000″},"mediaType":"Image","mimeType":"image/jpeg","url":"https://media.guim.co.uk/b15543fc7bfadfd1299ca2d6a22127499ee6d2a3/0_150_3483_2090/1000.jpg"},{"index":4,"fields":{"height":"300″,"width":"500″},"mediaType":"Image","mimeType":"image/jpeg","url":"https://media.guim.co.uk/b15543fc7bfadfd1299ca2d6a22127499ee6d2a3/0_150_3483_2090/500.jpg"},{"index":5,"fields":{"height":"84″,"width":"140″},"mediaType":"Image","mimeType":"image/jpeg","url":"https://media.guim.co.uk/b15543fc7bfadfd1299ca2d6a22127499ee6d2a3/0_150_3483_2090/140.jpg"}]},"data":{"alt":"Marcus Rashford of Manchester United scores a goal to make it 1-3 but it was disallowed by VAR","caption":" Marcus Rashford of Manchester United scores a goal to make it 1-3 but it was disallowed by VAR ","credit":"Photograph: James Williamson/AMA/Getty Images"},"displayCredit":true,"role":"inline","imageSources":[{"weighting":"inline","srcSet":[{"src":"https://i.guim.co.uk/img/media/b15543fc7bfadfd1299ca2d6a22127499ee6d2a3/0_150_3483_2090/master/3483.jpg?width=620&quality=85&auto=format&fit=max&s=b9a1229abcd2f25495a6d8040bbbff17″,"width":620},{"src":"https://i.guim.co.uk/img/media/b15543fc7bfadfd1299ca2d6a22127499ee6d2a3/0_150_3483_2090/master/3483.jpg?width=620&quality=45&auto=format&fit=max&dpr=2&s=260c4dcc759af2f7c4dbb4745fb52cac","width":1240},{"src":"https://i.guim.co.uk/img/media/b15543fc7bfadfd1299ca2d6a22127499ee6d2a3/0_150_3483_2090/master/3483.jpg?width=605&quality=85&auto=format&fit=max&s=7136ad5f8a412e518aa1f54b21861a20″,"width":605},{"src":"https://i.guim.co.uk/img/media/b15543fc7bfadfd1299ca2d6a22127499ee6d2a3/0_150_3483_2090/master/3483.jpg?width=605&quality=45&auto=format&fit=max&dpr=2&s=c79cd81d6443c50b3886cc5283965a77″,"width":1210},{"src":"https://i.guim.co.uk/img/media/b15543fc7bfadfd1299ca2d6a22127499ee6d2a3/0_150_3483_2090/master/3483.jpg?width=445&quality=85&auto=format&fit=max&s=5c31c144d9321fa5ff768fbce040c64c","width":445},{"src":"https://i.guim.co.uk/img/media/b15543fc7bfadfd1299ca2d6a22127499ee6d2a3/0_150_3483_2090/master/3483.jpg?width=445&quality=45&auto=format&fit=max&dpr=2&s=99018cde7eae969ee91173d8c9083966″,"width":890}]},{"weighting":"thumbnail","srcSet":[{"src":"https://i.guim.co.uk/img/media/b15543fc7bfadfd1299ca2d6a22127499ee6d2a3/0_150_3483_2090/master/3483.jpg?width=140&quality=85&auto=format&fit=max&s=25d7f053a36d9730d0cd33137118d9a1″,"width":140},{"src":"https://i.guim.co.uk/img/media/b15543fc7bfadfd1299ca2d6a22127499ee6d2a3/0_150_3483_2090/master/3483.jpg?width=140&quality=45&auto=format&fit=max&dpr=2&s=71b8c6cb51290f66aca382b7be6eb33b","width":280},{"src":"https://i.guim.co.uk/img/media/b15543fc7bfadfd1299ca2d6a22127499ee6d2a3/0_150_3483_2090/master/3483.jpg?width=120&quality=85&auto=format&fit=max&s=84cbbf3a25d2807c56e7f2afa013d9bb","width":120},{"src":"https://i.guim.co.uk/img/media/b15543fc7bfadfd1299ca2d6a22127499ee6d2a3/0_150_3483_2090/master/3483.jpg?width=120&quality=45&auto=format&fit=max&dpr=2&s=3f41b115d8967847acc40204dc4dadfa","width":240}]},{"weighting":"supporting","srcSet":[{"src":"https://i.guim.co.uk/img/media/b15543fc7bfadfd1299ca2d6a22127499ee6d2a3/0_150_3483_2090/master/3483.jpg?width=380&quality=85&auto=format&fit=max&s=b2a3725639b5ddfbf568b548fe3d6eac","width":380},{"src":"https://i.guim.co.uk/img/media/b15543fc7bfadfd1299ca2d6a22127499ee6d2a3/0_150_3483_2090/master/3483.jpg?width=380&quality=45&auto=format&fit=max&dpr=2&s=4d8d7d47b608ffb40ddc58449ab19928″,"width":760},{"src":"https://i.guim.co.uk/img/media/b15543fc7bfadfd1299ca2d6a22127499ee6d2a3/0_150_3483_2090/master/3483.jpg?width=300&quality=85&auto=format&fit=max&s=f64a87f172e31ab7e5427f694dcd90b2″,"width":300},{"src":"https://i.guim.co.uk/img/media/b15543fc7bfadfd1299ca2d6a22127499ee6d2a3/0_150_3483_2090/master/3483.jpg?width=300&quality=45&auto=format&fit=max&dpr=2&s=1d3af81c717b75bc3436763f1e2e5e29″,"width":600},{"src":"https://i.guim.co.uk/img/media/b15543fc7bfadfd1299ca2d6a22127499ee6d2a3/0_150_3483_2090/master/3483.jpg?width=620&quality=85&auto=format&fit=max&s=b9a1229abcd2f25495a6d8040bbbff17″,"width":620},{"src":"https://i.guim.co.uk/img/media/b15543fc7bfadfd1299ca2d6a22127499ee6d2a3/0_150_3483_2090/master/3483.jpg?width=620&quality=45&auto=format&fit=max&dpr=2&s=260c4dcc759af2f7c4dbb4745fb52cac","width":1240},{"src":"https://i.guim.co.uk/img/media/b15543fc7bfadfd1299ca2d6a22127499ee6d2a3/0_150_3483_2090/master/3483.jpg?width=605&quality=85&auto=format&fit=max&s=7136ad5f8a412e518aa1f54b21861a20″,"width":605},{"src":"https://i.guim.co.uk/img/media/b15543fc7bfadfd1299ca2d6a22127499ee6d2a3/0_150_3483_2090/master/3483.jpg?width=605&quality=45&auto=format&fit=max&dpr=2&s=c79cd81d6443c50b3886cc5283965a77″,"width":1210},{"src":"https://i.guim.co.uk/img/media/b15543fc7bfadfd1299ca2d6a22127499ee6d2a3/0_150_3483_2090/master/3483.jpg?width=445&quality=85&auto=format&fit=max&s=5c31c144d9321fa5ff768fbce040c64c","width":445},{"src":"https://i.guim.co.uk/img/media/b15543fc7bfadfd1299ca2d6a22127499ee6d2a3/0_150_3483_2090/master/3483.jpg?width=445&quality=45&auto=format&fit=max&dpr=2&s=99018cde7eae969ee91173d8c9083966″,"width":890}]},{"weighting":"showcase","srcSet":[{"src":"https://i.guim.co.uk/img/media/b15543fc7bfadfd1299ca2d6a22127499ee6d2a3/0_150_3483_2090/master/3483.jpg?width=860&quality=85&auto=format&fit=max&s=16fab7be96478dc12a0fb4126c87238c","width":860},{"src":"https://i.guim.co.uk/img/media/b15543fc7bfadfd1299ca2d6a22127499ee6d2a3/0_150_3483_2090/master/3483.jpg?width=860&quality=45&auto=format&fit=max&dpr=2&s=867f4850e5f4c1d9a1a93c29ee05bce7″,"width":1720},{"src":"https://i.guim.co.uk/img/media/b15543fc7bfadfd1299ca2d6a22127499ee6d2a3/0_150_3483_2090/master/3483.jpg?width=780&quality=85&auto=format&fit=max&s=ef6cc5ac40747bd20fac0cce2d286be8″,"width":780},{"src":"https://i.guim.co.uk/img/media/b15543fc7bfadfd1299ca2d6a22127499ee6d2a3/0_150_3483_2090/master/3483.jpg?width=780&quality=45&auto=format&fit=max&dpr=2&s=b1134200ec702b252c018a4043595cf6″,"width":1560},{"src":"https://i.guim.co.uk/img/media/b15543fc7bfadfd1299ca2d6a22127499ee6d2a3/0_150_3483_2090/master/3483.jpg?width=620&quality=85&auto=format&fit=max&s=b9a1229abcd2f25495a6d8040bbbff17″,"width":620},{"src":"https://i.guim.co.uk/img/media/b15543fc7bfadfd1299ca2d6a22127499ee6d2a3/0_150_3483_2090/master/3483.jpg?width=620&quality=45&auto=format&fit=max&dpr=2&s=260c4dcc759af2f7c4dbb4745fb52cac","width":1240},{"src":"https://i.guim.co.uk/img/media/b15543fc7bfadfd1299ca2d6a22127499ee6d2a3/0_150_3483_2090/master/3483.jpg?width=605&quality=85&auto=format&fit=max&s=7136ad5f8a412e518aa1f54b21861a20″,"width":605},{"src":"https://i.guim.co.uk/img/media/b15543fc7bfadfd1299ca2d6a22127499ee6d2a3/0_150_3483_2090/master/3483.jpg?width=605&quality=45&auto=format&fit=max&dpr=2&s=c79cd81d6443c50b3886cc5283965a77″,"width":1210},{"src":"https://i.guim.co.uk/img/media/b15543fc7bfadfd1299ca2d6a22127499ee6d2a3/0_150_3483_2090/master/3483.jpg?width=445&quality=85&auto=format&fit=max&s=5c31c144d9321fa5ff768fbce040c64c","width":445},{"src":"https://i.guim.co.uk/img/media/b15543fc7bfadfd1299ca2d6a22127499ee6d2a3/0_150_3483_2090/master/3483.jpg?width=445&quality=45&auto=format&fit=max&dpr=2&s=99018cde7eae969ee91173d8c9083966″,"width":890}]},{"weighting":"halfwidth","srcSet":[{"src":"https://i.guim.co.uk/img/media/b15543fc7bfadfd1299ca2d6a22127499ee6d2a3/0_150_3483_2090/master/3483.jpg?width=620&quality=85&auto=format&fit=max&s=b9a1229abcd2f25495a6d8040bbbff17″,"width":620},{"src":"https://i.guim.co.uk/img/media/b15543fc7bfadfd1299ca2d6a22127499ee6d2a3/0_150_3483_2090/master/3483.jpg?width=620&quality=45&auto=format&fit=max&dpr=2&s=260c4dcc759af2f7c4dbb4745fb52cac","width":1240},{"src":"https://i.guim.co.uk/img/media/b15543fc7bfadfd1299ca2d6a22127499ee6d2a3/0_150_3483_2090/master/3483.jpg?width=605&quality=85&auto=format&fit=max&s=7136ad5f8a412e518aa1f54b21861a20″,"width":605},{"src":"https://i.guim.co.uk/img/media/b15543fc7bfadfd1299ca2d6a22127499ee6d2a3/0_150_3483_2090/master/3483.jpg?width=605&quality=45&auto=format&fit=max&dpr=2&s=c79cd81d6443c50b3886cc5283965a77″,"width":1210},{"src":"https://i.guim.co.uk/img/media/b15543fc7bfadfd1299ca2d6a22127499ee6d2a3/0_150_3483_2090/master/3483.jpg?width=445&quality=85&auto=format&fit=max&s=5c31c144d9321fa5ff768fbce040c64c","width":445},{"src":"https://i.guim.co.uk/img/media/b15543fc7bfadfd1299ca2d6a22127499ee6d2a3/0_150_3483_2090/master/3483.jpg?width=445&quality=45&auto=format&fit=max&dpr=2&s=99018cde7eae969ee91173d8c9083966″,"width":890}]},{"weighting":"immersive","srcSet":[{"src":"https://i.guim.co.uk/img/media/b15543fc7bfadfd1299ca2d6a22127499ee6d2a3/0_150_3483_2090/master/3483.jpg?width=1900&quality=85&auto=format&fit=max&s=8ef937912925a6118f1c3e7a486885cd","width":1900},{"src":"https://i.guim.co.uk/img/media/b15543fc7bfadfd1299ca2d6a22127499ee6d2a3/0_150_3483_2090/master/3483.jpg?width=1900&quality=45&auto=format&fit=max&dpr=2&s=683634c22e4900fb52be82c6905804c2″,"width":3800},{"src":"https://i.guim.co.uk/img/media/b15543fc7bfadfd1299ca2d6a22127499ee6d2a3/0_150_3483_2090/master/3483.jpg?width=1300&quality=85&auto=format&fit=max&s=eeee289a7e0e424ab6ceecc106c536ab","width":1300},{"src":"https://i.guim.co.uk/img/media/b15543fc7bfadfd1299ca2d6a22127499ee6d2a3/0_150_3483_2090/master/3483.jpg?width=1300&quality=45&auto=format&fit=max&dpr=2&s=c27fb4ab902493ac9492b69b5b51ac8e","width":2600},{"src":"https://i.guim.co.uk/img/media/b15543fc7bfadfd1299ca2d6a22127499ee6d2a3/0_150_3483_2090/master/3483.jpg?width=1140&quality=85&auto=format&fit=max&s=6a63c7a52c3db69fdd6d81ecd4eaf1c5″,"width":1140},{"src":"https://i.guim.co.uk/img/media/b15543fc7bfadfd1299ca2d6a22127499ee6d2a3/0_150_3483_2090/master/3483.jpg?width=1140&quality=45&auto=format&fit=max&dpr=2&s=cf4be0d184c52d5ca655ee528325d5be","width":2280},{"src":"https://i.guim.co.uk/img/media/b15543fc7bfadfd1299ca2d6a22127499ee6d2a3/0_150_3483_2090/master/3483.jpg?width=980&quality=85&auto=format&fit=max&s=4911b09ef6a3c03961776848eed2b053″,"width":980},{"src":"https://i.guim.co.uk/img/media/b15543fc7bfadfd1299ca2d6a22127499ee6d2a3/0_150_3483_2090/master/3483.jpg?width=980&quality=45&auto=format&fit=max&dpr=2&s=21386c4405c8a3f1d53c7e5bc139d007″,"width":1960},{"src":"https://i.guim.co.uk/img/media/b15543fc7bfadfd1299ca2d6a22127499ee6d2a3/0_150_3483_2090/master/3483.jpg?width=740&quality=85&auto=format&fit=max&s=f4388e8ea5db5265aa527eb78e344906″,"width":740},{"src":"https://i.guim.co.uk/img/media/b15543fc7bfadfd1299ca2d6a22127499ee6d2a3/0_150_3483_2090/master/3483.jpg?width=740&quality=45&auto=format&fit=max&dpr=2&s=7818db82373bdb005c23385b865d9859″,"width":1480},{"src":"https://i.guim.co.uk/img/media/b15543fc7bfadfd1299ca2d6a22127499ee6d2a3/0_150_3483_2090/master/3483.jpg?width=660&quality=85&auto=format&fit=max&s=c3700e11bc7a2f89f32f28c6e3b5b47f","width":660},{"src":"https://i.guim.co.uk/img/media/b15543fc7bfadfd1299ca2d6a22127499ee6d2a3/0_150_3483_2090/master/3483.jpg?width=660&quality=45&auto=format&fit=max&dpr=2&s=7d5a80d6558516cfe73bc036051a91c8″,"width":1320},{"src":"https://i.guim.co.uk/img/media/b15543fc7bfadfd1299ca2d6a22127499ee6d2a3/0_150_3483_2090/master/3483.jpg?width=480&quality=85&auto=format&fit=max&s=0a0703ebb5679922c974a62e7086989e","width":480},{"src":"https://i.guim.co.uk/img/media/b15543fc7bfadfd1299ca2d6a22127499ee6d2a3/0_150_3483_2090/master/3483.jpg?width=480&quality=45&auto=format&fit=max&dpr=2&s=a9684e27ad9d1f5cb35b4f8aadf9ed02″,"width":960}]}],"elementId":"f976f92b-5b45-405f-a284-aee4f2c8b457″}],"attributes":{"pinned":false,"keyEvent":true,"summary":false},"blockCreatedOn":1665344354000,"blockCreatedOnDisplay":"15.39 EDT","blockLastUpdated":1665344953000,"blockLastUpdatedDisplay":"15.49 EDT","blockFirstPublished":1665344399000,"blockFirstPublishedDisplay":"15.39 EDT","blockFirstPublishedDisplayNoTimezone":"15.39″,"title":"Disallowed goal! 80 min: (Rashford)","contributors":[],"primaryDateLine":"Sun 9 Oct 2022 16.01 EDT","secondaryDateLine":"First published on Sun 9 Oct 2022 13.02 EDT"},{"id":"63431b398f088272fbb9ec76″,"elements":[{"_type":"model.dotcomrendering.pageElements.TextBlockElement","html":"

Here we go.

","elementId":"efbf66ed-e874-493b-8a81-d5858371220a"}],"attributes":{"pinned":false,"keyEvent":true,"summary":false},"blockCreatedOn":1665342265000,"blockCreatedOnDisplay":"15.04 EDT","blockLastUpdated":1665342276000,"blockLastUpdatedDisplay":"15.04 EDT","blockFirstPublished":1665342276000,"blockFirstPublishedDisplay":"15.04 EDT","blockFirstPublishedDisplayNoTimezone":"15.04″,"title":"Second half kick-off!","contributors":[],"primaryDateLine":"Sun 9 Oct 2022 16.01 EDT","secondaryDateLine":"First published on Sun 9 Oct 2022 13.02 EDT"},{"id":"634317c08f085c1507510ea5″,"elements":[{"_type":"model.dotcomrendering.pageElements.TextBlockElement","html":"

A highly eventful and entertaining first half.

","elementId":"8d59d637-3f7b-4007-ba44-f53b3300edb9″},{"_type":"model.dotcomrendering.pageElements.TextBlockElement","html":"

"Despite the goal, Ronaldo should not be at United as evidenced by his petulance," emails Jeff Sachs. "Ten Hag doesn't have the brass to keep him on the bench. MU will go nowhere this season as a result."

","elementId":"87631f9a-34e2-4e84-b25c-722be0c62401″},{"_type":"model.dotcomrendering.pageElements.TextBlockElement","html":"

Well, Ten Hag did have him on the bench tonight. And that last few minutes is Ronaldo in microcosm: he arguably cost his team a goal with lazy positioning, then goes and does something totally brilliant, and scores his 700th club goal, to boot.

","elementId":"89336dc2-c995-406f-a230-8bfcfbf065db"}],"attributes":{"pinned":false,"keyEvent":true,"summary":false},"blockCreatedOn":1665341376000,"blockCreatedOnDisplay":"14.49 EDT","blockLastUpdated":1665341523000,"blockLastUpdatedDisplay":"14.52 EDT","blockFirstPublished":1665341407000,"blockFirstPublishedDisplay":"14.50 EDT","blockFirstPublishedDisplayNoTimezone":"14.50″,"title":"Half-time! Everton 1-2 Manchester United","contributors":[],"primaryDateLine":"Sun 9 Oct 2022 16.01 EDT","secondaryDateLine":"First published on Sun 9 Oct 2022 13.02 EDT"},{"id":"634316848f08e561623cc53c","elements":[{"_type":"model.dotcomrendering.pageElements.TextBlockElement","html":"

Class finish, even classier assist by Casemiro … and that is Ronaldo's 700th club goal. Incredible!

","elementId":"6e18b9a8-620a-41ec-8c6c-5dbb1671bdaf"},{"_type":"model.dotcomrendering.pageElements.ImageBlockElement","media":{"allImages":[{"index":0,"fields":{"height":"1380″,"width":"2300″},"mediaType":"Image","mimeType":"image/jpeg","url":"https://media.guim.co.uk/4c05a81c10016fade93d3408e7804174202add22/0_76_2300_1380/2300.jpg"},{"index":1,"fields":{"isMaster":"true","height":"1380″,"width":"2300″},"mediaType":"Image","mimeType":"image/jpeg","url":"https://media.guim.co.uk/4c05a81c10016fade93d3408e7804174202add22/0_76_2300_1380/master/2300.jpg"},{"index":2,"fields":{"height":"1200″,"width":"2000″},"mediaType":"Image","mimeType":"image/jpeg","url":"https://media.guim.co.uk/4c05a81c10016fade93d3408e7804174202add22/0_76_2300_1380/2000.jpg"},{"index":3,"fields":{"height":"600″,"width":"1000″},"mediaType":"Image","mimeType":"image/jpeg","url":"https://media.guim.co.uk/4c05a81c10016fade93d3408e7804174202add22/0_76_2300_1380/1000.jpg"},{"index":4,"fields":{"height":"300″,"width":"500″},"mediaType":"Image","mimeType":"image/jpeg","url":"https://media.guim.co.uk/4c05a81c10016fade93d3408e7804174202add22/0_76_2300_1380/500.jpg"},{"index":5,"fields":{"height":"84″,"width":"140″},"mediaType":"Image","mimeType":"image/jpeg","url":"https://media.guim.co.uk/4c05a81c10016fade93d3408e7804174202add22/0_76_2300_1380/140.jpg"}]},"data":{"alt":"celebrates scoring their second","caption":"Goal number 700 reached ","credit":"Photograph: Phil Noble/Reuters"},"displayCredit":true,"role":"inline","imageSources":[{"weighting":"inline","srcSet":[{"src":"https://i.guim.co.uk/img/media/4c05a81c10016fade93d3408e7804174202add22/0_76_2300_1380/master/2300.jpg?width=620&quality=85&auto=format&fit=max&s=93e11dee729dd1590fd09537887e0b9c","width":620},{"src":"https://i.guim.co.uk/img/media/4c05a81c10016fade93d3408e7804174202add22/0_76_2300_1380/master/2300.jpg?width=620&quality=45&auto=format&fit=max&dpr=2&s=6fd5e41b24c01331aa5a420efecce605″,"width":1240},{"src":"https://i.guim.co.uk/img/media/4c05a81c10016fade93d3408e7804174202add22/0_76_2300_1380/master/2300.jpg?width=605&quality=85&auto=format&fit=max&s=3a356c9510810a34482598345677874e","width":605},{"src":"https://i.guim.co.uk/img/media/4c05a81c10016fade93d3408e7804174202add22/0_76_2300_1380/master/2300.jpg?width=605&quality=45&auto=format&fit=max&dpr=2&s=a8d977f33f6e82f2e64a496c4006bb29″,"width":1210},{"src":"https://i.guim.co.uk/img/media/4c05a81c10016fade93d3408e7804174202add22/0_76_2300_1380/master/2300.jpg?width=445&quality=85&auto=format&fit=max&s=2ee0bd398f3f1d2b6046e7c65fa73b76″,"width":445},{"src":"https://i.guim.co.uk/img/media/4c05a81c10016fade93d3408e7804174202add22/0_76_2300_1380/master/2300.jpg?width=445&quality=45&auto=format&fit=max&dpr=2&s=4b8f31aeec9260c4fe23e309d20e2418″,"width":890}]},{"weighting":"thumbnail","srcSet":[{"src":"https://i.guim.co.uk/img/media/4c05a81c10016fade93d3408e7804174202add22/0_76_2300_1380/master/2300.jpg?width=140&quality=85&auto=format&fit=max&s=029c5b5211a88579bf6505368a50ee0f","width":140},{"src":"https://i.guim.co.uk/img/media/4c05a81c10016fade93d3408e7804174202add22/0_76_2300_1380/master/2300.jpg?width=140&quality=45&auto=format&fit=max&dpr=2&s=0affc1d80cae86c97bb6b9727382d270″,"width":280},{"src":"https://i.guim.co.uk/img/media/4c05a81c10016fade93d3408e7804174202add22/0_76_2300_1380/master/2300.jpg?width=120&quality=85&auto=format&fit=max&s=82f9c75e4c1b87209a99beb44463e38f","width":120},{"src":"https://i.guim.co.uk/img/media/4c05a81c10016fade93d3408e7804174202add22/0_76_2300_1380/master/2300.jpg?width=120&quality=45&auto=format&fit=max&dpr=2&s=d87d7fdbef75192d5219262a2b8a4140″,"width":240}]},{"weighting":"supporting","srcSet":[{"src":"https://i.guim.co.uk/img/media/4c05a81c10016fade93d3408e7804174202add22/0_76_2300_1380/master/2300.jpg?width=380&quality=85&auto=format&fit=max&s=46bb121107a97a3cae89b4323c234d93″,"width":380},{"src":"https://i.guim.co.uk/img/media/4c05a81c10016fade93d3408e7804174202add22/0_76_2300_1380/master/2300.jpg?width=380&quality=45&auto=format&fit=max&dpr=2&s=c89f4bdd41c5b8b1cb701bea58879f9b","width":760},{"src":"https://i.guim.co.uk/img/media/4c05a81c10016fade93d3408e7804174202add22/0_76_2300_1380/master/2300.jpg?width=300&quality=85&auto=format&fit=max&s=7a251378ff57cfd0e77509118c3d22ff","width":300},{"src":"https://i.guim.co.uk/img/media/4c05a81c10016fade93d3408e7804174202add22/0_76_2300_1380/master/2300.jpg?width=300&quality=45&auto=format&fit=max&dpr=2&s=a2313427fc97f9d82905bbc43220e462″,"width":600},{"src":"https://i.guim.co.uk/img/media/4c05a81c10016fade93d3408e7804174202add22/0_76_2300_1380/master/2300.jpg?width=620&quality=85&auto=format&fit=max&s=93e11dee729dd1590fd09537887e0b9c","width":620},{"src":"https://i.guim.co.uk/img/media/4c05a81c10016fade93d3408e7804174202add22/0_76_2300_1380/master/2300.jpg?width=620&quality=45&auto=format&fit=max&dpr=2&s=6fd5e41b24c01331aa5a420efecce605″,"width":1240},{"src":"https://i.guim.co.uk/img/media/4c05a81c10016fade93d3408e7804174202add22/0_76_2300_1380/master/2300.jpg?width=605&quality=85&auto=format&fit=max&s=3a356c9510810a34482598345677874e","width":605},{"src":"https://i.guim.co.uk/img/media/4c05a81c10016fade93d3408e7804174202add22/0_76_2300_1380/master/2300.jpg?width=605&quality=45&auto=format&fit=max&dpr=2&s=a8d977f33f6e82f2e64a496c4006bb29″,"width":1210},{"src":"https://i.guim.co.uk/img/media/4c05a81c10016fade93d3408e7804174202add22/0_76_2300_1380/master/2300.jpg?width=445&quality=85&auto=format&fit=max&s=2ee0bd398f3f1d2b6046e7c65fa73b76″,"width":445},{"src":"https://i.guim.co.uk/img/media/4c05a81c10016fade93d3408e7804174202add22/0_76_2300_1380/master/2300.jpg?width=445&quality=45&auto=format&fit=max&dpr=2&s=4b8f31aeec9260c4fe23e309d20e2418″,"width":890}]},{"weighting":"showcase","srcSet":[{"src":"https://i.guim.co.uk/img/media/4c05a81c10016fade93d3408e7804174202add22/0_76_2300_1380/master/2300.jpg?width=860&quality=85&auto=format&fit=max&s=b3c6f68b7bc9ca9ab995dcec22847720″,"width":860},{"src":"https://i.guim.co.uk/img/media/4c05a81c10016fade93d3408e7804174202add22/0_76_2300_1380/master/2300.jpg?width=860&quality=45&auto=format&fit=max&dpr=2&s=b7a945f5da91064b61deac3408782c86″,"width":1720},{"src":"https://i.guim.co.uk/img/media/4c05a81c10016fade93d3408e7804174202add22/0_76_2300_1380/master/2300.jpg?width=780&quality=85&auto=format&fit=max&s=b11c4cae5af158d2f096997e4be7a3a7″,"width":780},{"src":"https://i.guim.co.uk/img/media/4c05a81c10016fade93d3408e7804174202add22/0_76_2300_1380/master/2300.jpg?width=780&quality=45&auto=format&fit=max&dpr=2&s=70504d044e43e404e18859ac84ac6d34″,"width":1560},{"src":"https://i.guim.co.uk/img/media/4c05a81c10016fade93d3408e7804174202add22/0_76_2300_1380/master/2300.jpg?width=620&quality=85&auto=format&fit=max&s=93e11dee729dd1590fd09537887e0b9c","width":620},{"src":"https://i.guim.co.uk/img/media/4c05a81c10016fade93d3408e7804174202add22/0_76_2300_1380/master/2300.jpg?width=620&quality=45&auto=format&fit=max&dpr=2&s=6fd5e41b24c01331aa5a420efecce605″,"width":1240},{"src":"https://i.guim.co.uk/img/media/4c05a81c10016fade93d3408e7804174202add22/0_76_2300_1380/master/2300.jpg?width=605&quality=85&auto=format&fit=max&s=3a356c9510810a34482598345677874e","width":605},{"src":"https://i.guim.co.uk/img/media/4c05a81c10016fade93d3408e7804174202add22/0_76_2300_1380/master/2300.jpg?width=605&quality=45&auto=format&fit=max&dpr=2&s=a8d977f33f6e82f2e64a496c4006bb29″,"width":1210},{"src":"https://i.guim.co.uk/img/media/4c05a81c10016fade93d3408e7804174202add22/0_76_2300_1380/master/2300.jpg?width=445&quality=85&auto=format&fit=max&s=2ee0bd398f3f1d2b6046e7c65fa73b76″,"width":445},{"src":"https://i.guim.co.uk/img/media/4c05a81c10016fade93d3408e7804174202add22/0_76_2300_1380/master/2300.jpg?width=445&quality=45&auto=format&fit=max&dpr=2&s=4b8f31aeec9260c4fe23e309d20e2418″,"width":890}]},{"weighting":"halfwidth","srcSet":[{"src":"https://i.guim.co.uk/img/media/4c05a81c10016fade93d3408e7804174202add22/0_76_2300_1380/master/2300.jpg?width=620&quality=85&auto=format&fit=max&s=93e11dee729dd1590fd09537887e0b9c","width":620},{"src":"https://i.guim.co.uk/img/media/4c05a81c10016fade93d3408e7804174202add22/0_76_2300_1380/master/2300.jpg?width=620&quality=45&auto=format&fit=max&dpr=2&s=6fd5e41b24c01331aa5a420efecce605″,"width":1240},{"src":"https://i.guim.co.uk/img/media/4c05a81c10016fade93d3408e7804174202add22/0_76_2300_1380/master/2300.jpg?width=605&quality=85&auto=format&fit=max&s=3a356c9510810a34482598345677874e","width":605},{"src":"https://i.guim.co.uk/img/media/4c05a81c10016fade93d3408e7804174202add22/0_76_2300_1380/master/2300.jpg?width=605&quality=45&auto=format&fit=max&dpr=2&s=a8d977f33f6e82f2e64a496c4006bb29″,"width":1210},{"src":"https://i.guim.co.uk/img/media/4c05a81c10016fade93d3408e7804174202add22/0_76_2300_1380/master/2300.jpg?width=445&quality=85&auto=format&fit=max&s=2ee0bd398f3f1d2b6046e7c65fa73b76″,"width":445},{"src":"https://i.guim.co.uk/img/media/4c05a81c10016fade93d3408e7804174202add22/0_76_2300_1380/master/2300.jpg?width=445&quality=45&auto=format&fit=max&dpr=2&s=4b8f31aeec9260c4fe23e309d20e2418″,"width":890}]},{"weighting":"immersive","srcSet":[{"src":"https://i.guim.co.uk/img/media/4c05a81c10016fade93d3408e7804174202add22/0_76_2300_1380/master/2300.jpg?width=1900&quality=85&auto=format&fit=max&s=66a3685ff52269615da68af026164bae","width":1900},{"src":"https://i.guim.co.uk/img/media/4c05a81c10016fade93d3408e7804174202add22/0_76_2300_1380/master/2300.jpg?width=1900&quality=45&auto=format&fit=max&dpr=2&s=f7a628a75eec06225bda33bcfbfc3d2a","width":3800},{"src":"https://i.guim.co.uk/img/media/4c05a81c10016fade93d3408e7804174202add22/0_76_2300_1380/master/2300.jpg?width=1300&quality=85&auto=format&fit=max&s=bd8cdbd5bbf6409fc0c5b75a3b322599″,"width":1300},{"src":"https://i.guim.co.uk/img/media/4c05a81c10016fade93d3408e7804174202add22/0_76_2300_1380/master/2300.jpg?width=1300&quality=45&auto=format&fit=max&dpr=2&s=5f95514151e05e60ba672de58b4f2e5b","width":2600},{"src":"https://i.guim.co.uk/img/media/4c05a81c10016fade93d3408e7804174202add22/0_76_2300_1380/master/2300.jpg?width=1140&quality=85&auto=format&fit=max&s=b1186dc16875ccfd49f8b6646847c76e","width":1140},{"src":"https://i.guim.co.uk/img/media/4c05a81c10016fade93d3408e7804174202add22/0_76_2300_1380/master/2300.jpg?width=1140&quality=45&auto=format&fit=max&dpr=2&s=c6cd5fc7199617b68407c4c50e0dffc4″,"width":2280},{"src":"https://i.guim.co.uk/img/media/4c05a81c10016fade93d3408e7804174202add22/0_76_2300_1380/master/2300.jpg?width=980&quality=85&auto=format&fit=max&s=df46da1d74e5a01e4889dbceb065c91b","width":980},{"src":"https://i.guim.co.uk/img/media/4c05a81c10016fade93d3408e7804174202add22/0_76_2300_1380/master/2300.jpg?width=980&quality=45&auto=format&fit=max&dpr=2&s=e243379237dcbf9a3e868d35c94dc9e5″,"width":1960},{"src":"https://i.guim.co.uk/img/media/4c05a81c10016fade93d3408e7804174202add22/0_76_2300_1380/master/2300.jpg?width=740&quality=85&auto=format&fit=max&s=81dee153d7bf800ff4997874d4cb4cff","width":740},{"src":"https://i.guim.co.uk/img/media/4c05a81c10016fade93d3408e7804174202add22/0_76_2300_1380/master/2300.jpg?width=740&quality=45&auto=format&fit=max&dpr=2&s=eebb11d9e0d51c711ee61528d4578eba","width":1480},{"src":"https://i.guim.co.uk/img/media/4c05a81c10016fade93d3408e7804174202add22/0_76_2300_1380/master/2300.jpg?width=660&quality=85&auto=format&fit=max&s=f0b599efec87c76958d9f4e1a3b67747″,"width":660},{"src":"https://i.guim.co.uk/img/media/4c05a81c10016fade93d3408e7804174202add22/0_76_2300_1380/master/2300.jpg?width=660&quality=45&auto=format&fit=max&dpr=2&s=859b34118ea7fff466735ecfb3a9df63″,"width":1320},{"src":"https://i.guim.co.uk/img/media/4c05a81c10016fade93d3408e7804174202add22/0_76_2300_1380/master/2300.jpg?width=480&quality=85&auto=format&fit=max&s=07eb7acc6f78e95e90334689e54e96cc","width":480},{"src":"https://i.guim.co.uk/img/media/4c05a81c10016fade93d3408e7804174202add22/0_76_2300_1380/master/2300.jpg?width=480&quality=45&auto=format&fit=max&dpr=2&s=2b0edbd302da560c81848077cc2c246e","width":960}]}],"elementId":"09f017fa-e523-4961-ad78-cfaa8ec9b291″}],"attributes":{"pinned":false,"keyEvent":true,"summary":false},"blockCreatedOn":1665341060000,"blockCreatedOnDisplay":"14.44 EDT","blockLastUpdated":1665345649000,"blockLastUpdatedDisplay":"16.00 EDT","blockFirstPublished":1665341112000,"blockFirstPublishedDisplay":"14.45 EDT","blockFirstPublishedDisplayNoTimezone":"14.45″,"title":"Goal! 44 min: Everton 1-2 Man Utd (Ronaldo's 700th club goal)","contributors":[],"primaryDateLine":"Sun 9 Oct 2022 16.01 EDT","secondaryDateLine":"First published on Sun 9 Oct 2022 13.02 EDT"},{"id":"634314e58f08e561623cc537″,"elements":[{"_type":"model.dotcomrendering.pageElements.TextBlockElement","html":"

This is vintage Ronaldo. Shaw has loads of space to run into the United left wing. He has four options in the middle, and instead of hitting a pacy cross into the mixer, he opts to roll a pass inside along the edge of the area which is intercepted. Ronaldo has made a run goalwards, but on seeing the pass, gesticulates as if to say "That's not good enough," and doesn't bother to try and get back onside. United win the ball back. But as a result of Ronaldo's position, when Fernandes slams the ball into the net via a deflection, the offside flag is raised. United should really be ahead.

","elementId":"c585caef-7902-496d-951f-061f32eb195c"},{"_type":"model.dotcomrendering.pageElements.ImageBlockElement","media":{"allImages":[{"index":0,"fields":{"height":"1389″,"width":"2316″},"mediaType":"Image","mimeType":"image/jpeg","url":"https://media.guim.co.uk/59e92a990ad74a313e04a432514608eb4a6a9b8e/0_53_2316_1389/2316.jpg"},{"index":1,"fields":{"isMaster":"true","height":"1389″,"width":"2316″},"mediaType":"Image","mimeType":"image/jpeg","url":"https://media.guim.co.uk/59e92a990ad74a313e04a432514608eb4a6a9b8e/0_53_2316_1389/master/2316.jpg"},{"index":2,"fields":{"height":"1200″,"width":"2000″},"mediaType":"Image","mimeType":"image/jpeg","url":"https://media.guim.co.uk/59e92a990ad74a313e04a432514608eb4a6a9b8e/0_53_2316_1389/2000.jpg"},{"index":3,"fields":{"height":"600″,"width":"1000″},"mediaType":"Image","mimeType":"image/jpeg","url":"https://media.guim.co.uk/59e92a990ad74a313e04a432514608eb4a6a9b8e/0_53_2316_1389/1000.jpg"},{"index":4,"fields":{"height":"300″,"width":"500″},"mediaType":"Image","mimeType":"image/jpeg","url":"https://media.guim.co.uk/59e92a990ad74a313e04a432514608eb4a6a9b8e/0_53_2316_1389/500.jpg"},{"index":5,"fields":{"height":"84″,"width":"140″},"mediaType":"Image","mimeType":"image/jpeg","url":"https://media.guim.co.uk/59e92a990ad74a313e04a432514608eb4a6a9b8e/0_53_2316_1389/140.jpg"}]},"data":{"alt":"No goal: United's Bruno Fernandes celebrates scoring their second goal that was later disallowed","caption":"No goal: United's Bruno Fernandes celebrates scoring their second goal that was later disallowed ","credit":"Photograph: Phil Noble/Reuters"},"displayCredit":true,"role":"inline","imageSources":[{"weighting":"inline","srcSet":[{"src":"https://i.guim.co.uk/img/media/59e92a990ad74a313e04a432514608eb4a6a9b8e/0_53_2316_1389/master/2316.jpg?width=620&quality=85&auto=format&fit=max&s=78baf4f374b16a4eb7bacab0513909a2″,"width":620},{"src":"https://i.guim.co.uk/img/media/59e92a990ad74a313e04a432514608eb4a6a9b8e/0_53_2316_1389/master/2316.jpg?width=620&quality=45&auto=format&fit=max&dpr=2&s=dfd621d28f91e3d5e31f4752db3982a2″,"width":1240},{"src":"https://i.guim.co.uk/img/media/59e92a990ad74a313e04a432514608eb4a6a9b8e/0_53_2316_1389/master/2316.jpg?width=605&quality=85&auto=format&fit=max&s=c686fb25c7e27036948badb574ce622c","width":605},{"src":"https://i.guim.co.uk/img/media/59e92a990ad74a313e04a432514608eb4a6a9b8e/0_53_2316_1389/master/2316.jpg?width=605&quality=45&auto=format&fit=max&dpr=2&s=15f89840b70bc491b51bf8dc649cbff1″,"width":1210},{"src":"https://i.guim.co.uk/img/media/59e92a990ad74a313e04a432514608eb4a6a9b8e/0_53_2316_1389/master/2316.jpg?width=445&quality=85&auto=format&fit=max&s=0b71a9c4cc3baecc4a2694af5c454e1f","width":445},{"src":"https://i.guim.co.uk/img/media/59e92a990ad74a313e04a432514608eb4a6a9b8e/0_53_2316_1389/master/2316.jpg?width=445&quality=45&auto=format&fit=max&dpr=2&s=114c9cec1835e9c4254e2beb2094c767″,"width":890}]},{"weighting":"thumbnail","srcSet":[{"src":"https://i.guim.co.uk/img/media/59e92a990ad74a313e04a432514608eb4a6a9b8e/0_53_2316_1389/master/2316.jpg?width=140&quality=85&auto=format&fit=max&s=d464bb1bd9726a166ecd3be478d26abc","width":140},{"src":"https://i.guim.co.uk/img/media/59e92a990ad74a313e04a432514608eb4a6a9b8e/0_53_2316_1389/master/2316.jpg?width=140&quality=45&auto=format&fit=max&dpr=2&s=50005c544301d780e5840de0f117a4b0″,"width":280},{"src":"https://i.guim.co.uk/img/media/59e92a990ad74a313e04a432514608eb4a6a9b8e/0_53_2316_1389/master/2316.jpg?width=120&quality=85&auto=format&fit=max&s=e93c0a1e82b584931ec3ce6339e3b93c","width":120},{"src":"https://i.guim.co.uk/img/media/59e92a990ad74a313e04a432514608eb4a6a9b8e/0_53_2316_1389/master/2316.jpg?width=120&quality=45&auto=format&fit=max&dpr=2&s=37cfd942c4e5baba381caa5b2d8a5dc7″,"width":240}]},{"weighting":"supporting","srcSet":[{"src":"https://i.guim.co.uk/img/media/59e92a990ad74a313e04a432514608eb4a6a9b8e/0_53_2316_1389/master/2316.jpg?width=380&quality=85&auto=format&fit=max&s=a5cc8185e375b93d6aa04fcc1213d46c","width":380},{"src":"https://i.guim.co.uk/img/media/59e92a990ad74a313e04a432514608eb4a6a9b8e/0_53_2316_1389/master/2316.jpg?width=380&quality=45&auto=format&fit=max&dpr=2&s=d2c417bfb3b7cce256fd74835a14a37b","width":760},{"src":"https://i.guim.co.uk/img/media/59e92a990ad74a313e04a432514608eb4a6a9b8e/0_53_2316_1389/master/2316.jpg?width=300&quality=85&auto=format&fit=max&s=a0888b7659d9d876cbf1119f7550d62e","width":300},{"src":"https://i.guim.co.uk/img/media/59e92a990ad74a313e04a432514608eb4a6a9b8e/0_53_2316_1389/master/2316.jpg?width=300&quality=45&auto=format&fit=max&dpr=2&s=0d01500cf76c6c806500410ad476d80e","width":600},{"src":"https://i.guim.co.uk/img/media/59e92a990ad74a313e04a432514608eb4a6a9b8e/0_53_2316_1389/master/2316.jpg?width=620&quality=85&auto=format&fit=max&s=78baf4f374b16a4eb7bacab0513909a2″,"width":620},{"src":"https://i.guim.co.uk/img/media/59e92a990ad74a313e04a432514608eb4a6a9b8e/0_53_2316_1389/master/2316.jpg?width=620&quality=45&auto=format&fit=max&dpr=2&s=dfd621d28f91e3d5e31f4752db3982a2″,"width":1240},{"src":"https://i.guim.co.uk/img/media/59e92a990ad74a313e04a432514608eb4a6a9b8e/0_53_2316_1389/master/2316.jpg?width=605&quality=85&auto=format&fit=max&s=c686fb25c7e27036948badb574ce622c","width":605},{"src":"https://i.guim.co.uk/img/media/59e92a990ad74a313e04a432514608eb4a6a9b8e/0_53_2316_1389/master/2316.jpg?width=605&quality=45&auto=format&fit=max&dpr=2&s=15f89840b70bc491b51bf8dc649cbff1″,"width":1210},{"src":"https://i.guim.co.uk/img/media/59e92a990ad74a313e04a432514608eb4a6a9b8e/0_53_2316_1389/master/2316.jpg?width=445&quality=85&auto=format&fit=max&s=0b71a9c4cc3baecc4a2694af5c454e1f","width":445},{"src":"https://i.guim.co.uk/img/media/59e92a990ad74a313e04a432514608eb4a6a9b8e/0_53_2316_1389/master/2316.jpg?width=445&quality=45&auto=format&fit=max&dpr=2&s=114c9cec1835e9c4254e2beb2094c767″,"width":890}]},{"weighting":"showcase","srcSet":[{"src":"https://i.guim.co.uk/img/media/59e92a990ad74a313e04a432514608eb4a6a9b8e/0_53_2316_1389/master/2316.jpg?width=860&quality=85&auto=format&fit=max&s=1e90098b12274c1970738ff1a1e9fa9c","width":860},{"src":"https://i.guim.co.uk/img/media/59e92a990ad74a313e04a432514608eb4a6a9b8e/0_53_2316_1389/master/2316.jpg?width=860&quality=45&auto=format&fit=max&dpr=2&s=e50ba291a29c2259278fad1c6fbb1a3e","width":1720},{"src":"https://i.guim.co.uk/img/media/59e92a990ad74a313e04a432514608eb4a6a9b8e/0_53_2316_1389/master/2316.jpg?width=780&quality=85&auto=format&fit=max&s=ae2a71cdc0d74968e6bc07c06e531b50″,"width":780},{"src":"https://i.guim.co.uk/img/media/59e92a990ad74a313e04a432514608eb4a6a9b8e/0_53_2316_1389/master/2316.jpg?width=780&quality=45&auto=format&fit=max&dpr=2&s=966242f658495843b8e77b3c95260c0c","width":1560},{"src":"https://i.guim.co.uk/img/media/59e92a990ad74a313e04a432514608eb4a6a9b8e/0_53_2316_1389/master/2316.jpg?width=620&quality=85&auto=format&fit=max&s=78baf4f374b16a4eb7bacab0513909a2″,"width":620},{"src":"https://i.guim.co.uk/img/media/59e92a990ad74a313e04a432514608eb4a6a9b8e/0_53_2316_1389/master/2316.jpg?width=620&quality=45&auto=format&fit=max&dpr=2&s=dfd621d28f91e3d5e31f4752db3982a2″,"width":1240},{"src":"https://i.guim.co.uk/img/media/59e92a990ad74a313e04a432514608eb4a6a9b8e/0_53_2316_1389/master/2316.jpg?width=605&quality=85&auto=format&fit=max&s=c686fb25c7e27036948badb574ce622c","width":605},{"src":"https://i.guim.co.uk/img/media/59e92a990ad74a313e04a432514608eb4a6a9b8e/0_53_2316_1389/master/2316.jpg?width=605&quality=45&auto=format&fit=max&dpr=2&s=15f89840b70bc491b51bf8dc649cbff1″,"width":1210},{"src":"https://i.guim.co.uk/img/media/59e92a990ad74a313e04a432514608eb4a6a9b8e/0_53_2316_1389/master/2316.jpg?width=445&quality=85&auto=format&fit=max&s=0b71a9c4cc3baecc4a2694af5c454e1f","width":445},{"src":"https://i.guim.co.uk/img/media/59e92a990ad74a313e04a432514608eb4a6a9b8e/0_53_2316_1389/master/2316.jpg?width=445&quality=45&auto=format&fit=max&dpr=2&s=114c9cec1835e9c4254e2beb2094c767″,"width":890}]},{"weighting":"halfwidth","srcSet":[{"src":"https://i.guim.co.uk/img/media/59e92a990ad74a313e04a432514608eb4a6a9b8e/0_53_2316_1389/master/2316.jpg?width=620&quality=85&auto=format&fit=max&s=78baf4f374b16a4eb7bacab0513909a2″,"width":620},{"src":"https://i.guim.co.uk/img/media/59e92a990ad74a313e04a432514608eb4a6a9b8e/0_53_2316_1389/master/2316.jpg?width=620&quality=45&auto=format&fit=max&dpr=2&s=dfd621d28f91e3d5e31f4752db3982a2″,"width":1240},{"src":"https://i.guim.co.uk/img/media/59e92a990ad74a313e04a432514608eb4a6a9b8e/0_53_2316_1389/master/2316.jpg?width=605&quality=85&auto=format&fit=max&s=c686fb25c7e27036948badb574ce622c","width":605},{"src":"https://i.guim.co.uk/img/media/59e92a990ad74a313e04a432514608eb4a6a9b8e/0_53_2316_1389/master/2316.jpg?width=605&quality=45&auto=format&fit=max&dpr=2&s=15f89840b70bc491b51bf8dc649cbff1″,"width":1210},{"src":"https://i.guim.co.uk/img/media/59e92a990ad74a313e04a432514608eb4a6a9b8e/0_53_2316_1389/master/2316.jpg?width=445&quality=85&auto=format&fit=max&s=0b71a9c4cc3baecc4a2694af5c454e1f","width":445},{"src":"https://i.guim.co.uk/img/media/59e92a990ad74a313e04a432514608eb4a6a9b8e/0_53_2316_1389/master/2316.jpg?width=445&quality=45&auto=format&fit=max&dpr=2&s=114c9cec1835e9c4254e2beb2094c767″,"width":890}]},{"weighting":"immersive","srcSet":[{"src":"https://i.guim.co.uk/img/media/59e92a990ad74a313e04a432514608eb4a6a9b8e/0_53_2316_1389/master/2316.jpg?width=1900&quality=85&auto=format&fit=max&s=a06ed2e988733e74302040fbb64e31dd","width":1900},{"src":"https://i.guim.co.uk/img/media/59e92a990ad74a313e04a432514608eb4a6a9b8e/0_53_2316_1389/master/2316.jpg?width=1900&quality=45&auto=format&fit=max&dpr=2&s=96ab6d20a1eeaf81c4a3e2aabb7a80a4″,"width":3800},{"src":"https://i.guim.co.uk/img/media/59e92a990ad74a313e04a432514608eb4a6a9b8e/0_53_2316_1389/master/2316.jpg?width=1300&quality=85&auto=format&fit=max&s=5ea07cb45088e015973d1ab21eed9f71″,"width":1300},{"src":"https://i.guim.co.uk/img/media/59e92a990ad74a313e04a432514608eb4a6a9b8e/0_53_2316_1389/master/2316.jpg?width=1300&quality=45&auto=format&fit=max&dpr=2&s=0602459c97b95754535ececa389e54ad","width":2600},{"src":"https://i.guim.co.uk/img/media/59e92a990ad74a313e04a432514608eb4a6a9b8e/0_53_2316_1389/master/2316.jpg?width=1140&quality=85&auto=format&fit=max&s=aa4c86d1bd16273aa722777f2f839d23″,"width":1140},{"src":"https://i.guim.co.uk/img/media/59e92a990ad74a313e04a432514608eb4a6a9b8e/0_53_2316_1389/master/2316.jpg?width=1140&quality=45&auto=format&fit=max&dpr=2&s=2fa82dd0d0fe73fa8ef08f4f7265dd40″,"width":2280},{"src":"https://i.guim.co.uk/img/media/59e92a990ad74a313e04a432514608eb4a6a9b8e/0_53_2316_1389/master/2316.jpg?width=980&quality=85&auto=format&fit=max&s=1f3bf5a2b5485a005d031ef9d3f3d83b","width":980},{"src":"https://i.guim.co.uk/img/media/59e92a990ad74a313e04a432514608eb4a6a9b8e/0_53_2316_1389/master/2316.jpg?width=980&quality=45&auto=format&fit=max&dpr=2&s=da4399a89eb0781cbe893a153e5703f8″,"width":1960},{"src":"https://i.guim.co.uk/img/media/59e92a990ad74a313e04a432514608eb4a6a9b8e/0_53_2316_1389/master/2316.jpg?width=740&quality=85&auto=format&fit=max&s=1dd10cc57e586533e72ff48084dafc6a","width":740},{"src":"https://i.guim.co.uk/img/media/59e92a990ad74a313e04a432514608eb4a6a9b8e/0_53_2316_1389/master/2316.jpg?width=740&quality=45&auto=format&fit=max&dpr=2&s=4903e121194ae81d27ed6f0d064b6b7a","width":1480},{"src":"https://i.guim.co.uk/img/media/59e92a990ad74a313e04a432514608eb4a6a9b8e/0_53_2316_1389/master/2316.jpg?width=660&quality=85&auto=format&fit=max&s=9027f0dbfa245f21dfc3c52884ab0353″,"width":660},{"src":"https://i.guim.co.uk/img/media/59e92a990ad74a313e04a432514608eb4a6a9b8e/0_53_2316_1389/master/2316.jpg?width=660&quality=45&auto=format&fit=max&dpr=2&s=84dd86bae87dd18c106af45a4fd32917″,"width":1320},{"src":"https://i.guim.co.uk/img/media/59e92a990ad74a313e04a432514608eb4a6a9b8e/0_53_2316_1389/master/2316.jpg?width=480&quality=85&auto=format&fit=max&s=c49f3b35eccd852828845278a981c5de","width":480},{"src":"https://i.guim.co.uk/img/media/59e92a990ad74a313e04a432514608eb4a6a9b8e/0_53_2316_1389/master/2316.jpg?width=480&quality=45&auto=format&fit=max&dpr=2&s=c81d1100f1c52577844df76b0eb23542″,"width":960}]}],"elementId":"7b392805-68db-49f9-9c04-2ccb58f4a99d"}],"attributes":{"pinned":false,"keyEvent":true,"summary":false},"blockCreatedOn":1665340645000,"blockCreatedOnDisplay":"14.37 EDT","blockLastUpdated":1665341027000,"blockLastUpdatedDisplay":"14.43 EDT","blockFirstPublished":1665340805000,"blockFirstPublishedDisplay":"14.40 EDT","blockFirstPublishedDisplayNoTimezone":"14.40″,"title":"38 min: Disallowed goal for Manchester United! (Fernandes)","contributors":[],"primaryDateLine":"Sun 9 Oct 2022 16.01 EDT","secondaryDateLine":"First published on Sun 9 Oct 2022 13.02 EDT"},{"id":"63430fa88f085c1507510e67″,"elements":[{"_type":"model.dotcomrendering.pageElements.TextBlockElement","html":"

All square. Commentator's curse.

","elementId":"56386772-0a1b-472b-aa3b-42d8bc2a14f9″},{"_type":"model.dotcomrendering.pageElements.ImageBlockElement","media":{"allImages":[{"index":0,"fields":{"height":"1496″,"width":"2493″},"mediaType":"Image","mimeType":"image/jpeg","url":"https://media.guim.co.uk/3765da10f792d3431e3128ddb426feff90c1b4fd/0_125_2493_1496/2493.jpg"},{"index":1,"fields":{"isMaster":"true","height":"1496″,"width":"2493″},"mediaType":"Image","mimeType":"image/jpeg","url":"https://media.guim.co.uk/3765da10f792d3431e3128ddb426feff90c1b4fd/0_125_2493_1496/master/2493.jpg"},{"index":2,"fields":{"height":"1200″,"width":"2000″},"mediaType":"Image","mimeType":"image/jpeg","url":"https://media.guim.co.uk/3765da10f792d3431e3128ddb426feff90c1b4fd/0_125_2493_1496/2000.jpg"},{"index":3,"fields":{"height":"600″,"width":"1000″},"mediaType":"Image","mimeType":"image/jpeg","url":"https://media.guim.co.uk/3765da10f792d3431e3128ddb426feff90c1b4fd/0_125_2493_1496/1000.jpg"},{"index":4,"fields":{"height":"300″,"width":"500″},"mediaType":"Image","mimeType":"image/jpeg","url":"https://media.guim.co.uk/3765da10f792d3431e3128ddb426feff90c1b4fd/0_125_2493_1496/500.jpg"},{"index":5,"fields":{"height":"84″,"width":"140″},"mediaType":"Image","mimeType":"image/jpeg","url":"https://media.guim.co.uk/3765da10f792d3431e3128ddb426feff90c1b4fd/0_125_2493_1496/140.jpg"}]},"data":{"alt":"Manchester United's Antony scores their first goal","caption":" Manchester United's Antony scores their first goal ","credit":"Photograph: Carl Recine/Action Images/Reuters"},"displayCredit":true,"role":"inline","imageSources":[{"weighting":"inline","srcSet":[{"src":"https://i.guim.co.uk/img/media/3765da10f792d3431e3128ddb426feff90c1b4fd/0_125_2493_1496/master/2493.jpg?width=620&quality=85&auto=format&fit=max&s=b04edc9988258c9b23a1e42ced13b8ec","width":620},{"src":"https://i.guim.co.uk/img/media/3765da10f792d3431e3128ddb426feff90c1b4fd/0_125_2493_1496/master/2493.jpg?width=620&quality=45&auto=format&fit=max&dpr=2&s=75be0c345b56c77910a61ac1196d6910″,"width":1240},{"src":"https://i.guim.co.uk/img/media/3765da10f792d3431e3128ddb426feff90c1b4fd/0_125_2493_1496/master/2493.jpg?width=605&quality=85&auto=format&fit=max&s=fb1dd9e7dce71ef18cdab85b1d907069″,"width":605},{"src":"https://i.guim.co.uk/img/media/3765da10f792d3431e3128ddb426feff90c1b4fd/0_125_2493_1496/master/2493.jpg?width=605&quality=45&auto=format&fit=max&dpr=2&s=8725db753a621ce3f82c1d16bb5caa98″,"width":1210},{"src":"https://i.guim.co.uk/img/media/3765da10f792d3431e3128ddb426feff90c1b4fd/0_125_2493_1496/master/2493.jpg?width=445&quality=85&auto=format&fit=max&s=d43b513759ee58dd3765b1701daec5be","width":445},{"src":"https://i.guim.co.uk/img/media/3765da10f792d3431e3128ddb426feff90c1b4fd/0_125_2493_1496/master/2493.jpg?width=445&quality=45&auto=format&fit=max&dpr=2&s=7717ba61aa50c1e44f620d8935fd0953″,"width":890}]},{"weighting":"thumbnail","srcSet":[{"src":"https://i.guim.co.uk/img/media/3765da10f792d3431e3128ddb426feff90c1b4fd/0_125_2493_1496/master/2493.jpg?width=140&quality=85&auto=format&fit=max&s=c727a2bc25e446e0518ab6e803c6a6a7″,"width":140},{"src":"https://i.guim.co.uk/img/media/3765da10f792d3431e3128ddb426feff90c1b4fd/0_125_2493_1496/master/2493.jpg?width=140&quality=45&auto=format&fit=max&dpr=2&s=a18a75a816203ae02bc5cfbff4e79d16″,"width":280},{"src":"https://i.guim.co.uk/img/media/3765da10f792d3431e3128ddb426feff90c1b4fd/0_125_2493_1496/master/2493.jpg?width=120&quality=85&auto=format&fit=max&s=d33ea23d9942d050a16df099cdef44c0″,"width":120},{"src":"https://i.guim.co.uk/img/media/3765da10f792d3431e3128ddb426feff90c1b4fd/0_125_2493_1496/master/2493.jpg?width=120&quality=45&auto=format&fit=max&dpr=2&s=05c5b8f174f44dcbe0f4f51eb66e0f5e","width":240}]},{"weighting":"supporting","srcSet":[{"src":"https://i.guim.co.uk/img/media/3765da10f792d3431e3128ddb426feff90c1b4fd/0_125_2493_1496/master/2493.jpg?width=380&quality=85&auto=format&fit=max&s=4563de2a54292bc61439c3b661d3fd08″,"width":380},{"src":"https://i.guim.co.uk/img/media/3765da10f792d3431e3128ddb426feff90c1b4fd/0_125_2493_1496/master/2493.jpg?width=380&quality=45&auto=format&fit=max&dpr=2&s=bace9fa83f1721753e9b6ab7444aba30″,"width":760},{"src":"https://i.guim.co.uk/img/media/3765da10f792d3431e3128ddb426feff90c1b4fd/0_125_2493_1496/master/2493.jpg?width=300&quality=85&auto=format&fit=max&s=f416d00e07bfd98cf9ebe0637cdce2cd","width":300},{"src":"https://i.guim.co.uk/img/media/3765da10f792d3431e3128ddb426feff90c1b4fd/0_125_2493_1496/master/2493.jpg?width=300&quality=45&auto=format&fit=max&dpr=2&s=7a5d2c25a14a7b98d8aceb9bba594c08″,"width":600},{"src":"https://i.guim.co.uk/img/media/3765da10f792d3431e3128ddb426feff90c1b4fd/0_125_2493_1496/master/2493.jpg?width=620&quality=85&auto=format&fit=max&s=b04edc9988258c9b23a1e42ced13b8ec","width":620},{"src":"https://i.guim.co.uk/img/media/3765da10f792d3431e3128ddb426feff90c1b4fd/0_125_2493_1496/master/2493.jpg?width=620&quality=45&auto=format&fit=max&dpr=2&s=75be0c345b56c77910a61ac1196d6910″,"width":1240},{"src":"https://i.guim.co.uk/img/media/3765da10f792d3431e3128ddb426feff90c1b4fd/0_125_2493_1496/master/2493.jpg?width=605&quality=85&auto=format&fit=max&s=fb1dd9e7dce71ef18cdab85b1d907069″,"width":605},{"src":"https://i.guim.co.uk/img/media/3765da10f792d3431e3128ddb426feff90c1b4fd/0_125_2493_1496/master/2493.jpg?width=605&quality=45&auto=format&fit=max&dpr=2&s=8725db753a621ce3f82c1d16bb5caa98″,"width":1210},{"src":"https://i.guim.co.uk/img/media/3765da10f792d3431e3128ddb426feff90c1b4fd/0_125_2493_1496/master/2493.jpg?width=445&quality=85&auto=format&fit=max&s=d43b513759ee58dd3765b1701daec5be","width":445},{"src":"https://i.guim.co.uk/img/media/3765da10f792d3431e3128ddb426feff90c1b4fd/0_125_2493_1496/master/2493.jpg?width=445&quality=45&auto=format&fit=max&dpr=2&s=7717ba61aa50c1e44f620d8935fd0953″,"width":890}]},{"weighting":"showcase","srcSet":[{"src":"https://i.guim.co.uk/img/media/3765da10f792d3431e3128ddb426feff90c1b4fd/0_125_2493_1496/master/2493.jpg?width=860&quality=85&auto=format&fit=max&s=9cc14f30e5655e1e485798818ee3b90b","width":860},{"src":"https://i.guim.co.uk/img/media/3765da10f792d3431e3128ddb426feff90c1b4fd/0_125_2493_1496/master/2493.jpg?width=860&quality=45&auto=format&fit=max&dpr=2&s=1ef58356845dd264bbfcadad774c3d44″,"width":1720},{"src":"https://i.guim.co.uk/img/media/3765da10f792d3431e3128ddb426feff90c1b4fd/0_125_2493_1496/master/2493.jpg?width=780&quality=85&auto=format&fit=max&s=c3731c594d3d63a8be60b0ae4fd2e749″,"width":780},{"src":"https://i.guim.co.uk/img/media/3765da10f792d3431e3128ddb426feff90c1b4fd/0_125_2493_1496/master/2493.jpg?width=780&quality=45&auto=format&fit=max&dpr=2&s=437196d9aaf8da9358c8b55efc20df81″,"width":1560},{"src":"https://i.guim.co.uk/img/media/3765da10f792d3431e3128ddb426feff90c1b4fd/0_125_2493_1496/master/2493.jpg?width=620&quality=85&auto=format&fit=max&s=b04edc9988258c9b23a1e42ced13b8ec","width":620},{"src":"https://i.guim.co.uk/img/media/3765da10f792d3431e3128ddb426feff90c1b4fd/0_125_2493_1496/master/2493.jpg?width=620&quality=45&auto=format&fit=max&dpr=2&s=75be0c345b56c77910a61ac1196d6910″,"width":1240},{"src":"https://i.guim.co.uk/img/media/3765da10f792d3431e3128ddb426feff90c1b4fd/0_125_2493_1496/master/2493.jpg?width=605&quality=85&auto=format&fit=max&s=fb1dd9e7dce71ef18cdab85b1d907069″,"width":605},{"src":"https://i.guim.co.uk/img/media/3765da10f792d3431e3128ddb426feff90c1b4fd/0_125_2493_1496/master/2493.jpg?width=605&quality=45&auto=format&fit=max&dpr=2&s=8725db753a621ce3f82c1d16bb5caa98″,"width":1210},{"src":"https://i.guim.co.uk/img/media/3765da10f792d3431e3128ddb426feff90c1b4fd/0_125_2493_1496/master/2493.jpg?width=445&quality=85&auto=format&fit=max&s=d43b513759ee58dd3765b1701daec5be","width":445},{"src":"https://i.guim.co.uk/img/media/3765da10f792d3431e3128ddb426feff90c1b4fd/0_125_2493_1496/master/2493.jpg?width=445&quality=45&auto=format&fit=max&dpr=2&s=7717ba61aa50c1e44f620d8935fd0953″,"width":890}]},{"weighting":"halfwidth","srcSet":[{"src":"https://i.guim.co.uk/img/media/3765da10f792d3431e3128ddb426feff90c1b4fd/0_125_2493_1496/master/2493.jpg?width=620&quality=85&auto=format&fit=max&s=b04edc9988258c9b23a1e42ced13b8ec","width":620},{"src":"https://i.guim.co.uk/img/media/3765da10f792d3431e3128ddb426feff90c1b4fd/0_125_2493_1496/master/2493.jpg?width=620&quality=45&auto=format&fit=max&dpr=2&s=75be0c345b56c77910a61ac1196d6910″,"width":1240},{"src":"https://i.guim.co.uk/img/media/3765da10f792d3431e3128ddb426feff90c1b4fd/0_125_2493_1496/master/2493.jpg?width=605&quality=85&auto=format&fit=max&s=fb1dd9e7dce71ef18cdab85b1d907069″,"width":605},{"src":"https://i.guim.co.uk/img/media/3765da10f792d3431e3128ddb426feff90c1b4fd/0_125_2493_1496/master/2493.jpg?width=605&quality=45&auto=format&fit=max&dpr=2&s=8725db753a621ce3f82c1d16bb5caa98″,"width":1210},{"src":"https://i.guim.co.uk/img/media/3765da10f792d3431e3128ddb426feff90c1b4fd/0_125_2493_1496/master/2493.jpg?width=445&quality=85&auto=format&fit=max&s=d43b513759ee58dd3765b1701daec5be","width":445},{"src":"https://i.guim.co.uk/img/media/3765da10f792d3431e3128ddb426feff90c1b4fd/0_125_2493_1496/master/2493.jpg?width=445&quality=45&auto=format&fit=max&dpr=2&s=7717ba61aa50c1e44f620d8935fd0953″,"width":890}]},{"weighting":"immersive","srcSet":[{"src":"https://i.guim.co.uk/img/media/3765da10f792d3431e3128ddb426feff90c1b4fd/0_125_2493_1496/master/2493.jpg?width=1900&quality=85&auto=format&fit=max&s=7a392f5921de4ad36e2e638cc892240a","width":1900},{"src":"https://i.guim.co.uk/img/media/3765da10f792d3431e3128ddb426feff90c1b4fd/0_125_2493_1496/master/2493.jpg?width=1900&quality=45&auto=format&fit=max&dpr=2&s=419cd04df623ec21bab30d977bef6fad","width":3800},{"src":"https://i.guim.co.uk/img/media/3765da10f792d3431e3128ddb426feff90c1b4fd/0_125_2493_1496/master/2493.jpg?width=1300&quality=85&auto=format&fit=max&s=1b8bbae89ccce3d72c034c8087eeb731″,"width":1300},{"src":"https://i.guim.co.uk/img/media/3765da10f792d3431e3128ddb426feff90c1b4fd/0_125_2493_1496/master/2493.jpg?width=1300&quality=45&auto=format&fit=max&dpr=2&s=24118eb5676603f69a5db741b21bc711″,"width":2600},{"src":"https://i.guim.co.uk/img/media/3765da10f792d3431e3128ddb426feff90c1b4fd/0_125_2493_1496/master/2493.jpg?width=1140&quality=85&auto=format&fit=max&s=168ed37eb814cc92b83cc0caed30f880″,"width":1140},{"src":"https://i.guim.co.uk/img/media/3765da10f792d3431e3128ddb426feff90c1b4fd/0_125_2493_1496/master/2493.jpg?width=1140&quality=45&auto=format&fit=max&dpr=2&s=75296f6d361dfd39fe5249d88759c280″,"width":2280},{"src":"https://i.guim.co.uk/img/media/3765da10f792d3431e3128ddb426feff90c1b4fd/0_125_2493_1496/master/2493.jpg?width=980&quality=85&auto=format&fit=max&s=018d82f051ecff0289fc4d441a64e09c","width":980},{"src":"https://i.guim.co.uk/img/media/3765da10f792d3431e3128ddb426feff90c1b4fd/0_125_2493_1496/master/2493.jpg?width=980&quality=45&auto=format&fit=max&dpr=2&s=75e02cebb19d412b4b9024e6e828d224″,"width":1960},{"src":"https://i.guim.co.uk/img/media/3765da10f792d3431e3128ddb426feff90c1b4fd/0_125_2493_1496/master/2493.jpg?width=740&quality=85&auto=format&fit=max&s=0784371040ca28d7720c391822fa94eb","width":740},{"src":"https://i.guim.co.uk/img/media/3765da10f792d3431e3128ddb426feff90c1b4fd/0_125_2493_1496/master/2493.jpg?width=740&quality=45&auto=format&fit=max&dpr=2&s=a530e9c1307c8fbb159bfe3903972b91″,"width":1480},{"src":"https://i.guim.co.uk/img/media/3765da10f792d3431e3128ddb426feff90c1b4fd/0_125_2493_1496/master/2493.jpg?width=660&quality=85&auto=format&fit=max&s=90b1f10a18fbb99aeecd1ac5de189551″,"width":660},{"src":"https://i.guim.co.uk/img/media/3765da10f792d3431e3128ddb426feff90c1b4fd/0_125_2493_1496/master/2493.jpg?width=660&quality=45&auto=format&fit=max&dpr=2&s=54b3f4f57edf9c6f8d6e9f563446e7ff","width":1320},{"src":"https://i.guim.co.uk/img/media/3765da10f792d3431e3128ddb426feff90c1b4fd/0_125_2493_1496/master/2493.jpg?width=480&quality=85&auto=format&fit=max&s=d9215d4be016f07be3f2c22198cb63d1″,"width":480},{"src":"https://i.guim.co.uk/img/media/3765da10f792d3431e3128ddb426feff90c1b4fd/0_125_2493_1496/master/2493.jpg?width=480&quality=45&auto=format&fit=max&dpr=2&s=93547862a87ffae9643ab29c4063ce0b","width":960}]}],"elementId":"e5e546e1-dcb1-49fb-87dc-91dcf66a62fa"}],"attributes":{"pinned":false,"keyEvent":true,"summary":false},"blockCreatedOn":1665339304000,"blockCreatedOnDisplay":"14.15 EDT","blockLastUpdated":1665339622000,"blockLastUpdatedDisplay":"14.20 EDT","blockFirstPublished":1665339362000,"blockFirstPublishedDisplay":"14.16 EDT","blockFirstPublishedDisplayNoTimezone":"14.16″,"title":"Goal! 14 min: Everton 1-1 Manchester United (Antony)","contributors":[],"primaryDateLine":"Sun 9 Oct 2022 16.01 EDT","secondaryDateLine":"First published on Sun 9 Oct 2022 13.02 EDT"},{"id":"63430d6f8f085c1507510e4c","elements":[{"_type":"model.dotcomrendering.pageElements.TextBlockElement","html":"

Great finish!

","elementId":"30e70561-0c6b-4564-8324-2f7c9e879b95″},{"_type":"model.dotcomrendering.pageElements.ImageBlockElement","media":{"allImages":[{"index":0,"fields":{"height":"2458″,"width":"4096″},"mediaType":"Image","mimeType":"image/jpeg","url":"https://media.guim.co.uk/92933a11f2235f009565d141af6f968462725ef2/0_55_4096_2458/4096.jpg"},{"index":1,"fields":{"isMaster":"true","height":"2458″,"width":"4096″},"mediaType":"Image","mimeType":"image/jpeg","url":"https://media.guim.co.uk/92933a11f2235f009565d141af6f968462725ef2/0_55_4096_2458/master/4096.jpg"},{"index":2,"fields":{"height":"1200″,"width":"2000″},"mediaType":"Image","mimeType":"image/jpeg","url":"https://media.guim.co.uk/92933a11f2235f009565d141af6f968462725ef2/0_55_4096_2458/2000.jpg"},{"index":3,"fields":{"height":"600″,"width":"1000″},"mediaType":"Image","mimeType":"image/jpeg","url":"https://media.guim.co.uk/92933a11f2235f009565d141af6f968462725ef2/0_55_4096_2458/1000.jpg"},{"index":4,"fields":{"height":"300″,"width":"500″},"mediaType":"Image","mimeType":"image/jpeg","url":"https://media.guim.co.uk/92933a11f2235f009565d141af6f968462725ef2/0_55_4096_2458/500.jpg"},{"index":5,"fields":{"height":"84″,"width":"140″},"mediaType":"Image","mimeType":"image/jpeg","url":"https://media.guim.co.uk/92933a11f2235f009565d141af6f968462725ef2/0_55_4096_2458/140.jpg"}]},"data":{"alt":"Alex Iwobi (3-L) puts the ball past keeper David de Gea (R) and opens the scoring","caption":"Alex Iwobi (3-L) puts the ball past keeper David de Gea (R) and opens the scoring ","credit":"Photograph: Adam Vaughan/EPA"},"displayCredit":true,"role":"inline","imageSources":[{"weighting":"inline","srcSet":[{"src":"https://i.guim.co.uk/img/media/92933a11f2235f009565d141af6f968462725ef2/0_55_4096_2458/master/4096.jpg?width=620&quality=85&auto=format&fit=max&s=0d38443cd68c26cf3fcbdacfe2ec6331″,"width":620},{"src":"https://i.guim.co.uk/img/media/92933a11f2235f009565d141af6f968462725ef2/0_55_4096_2458/master/4096.jpg?width=620&quality=45&auto=format&fit=max&dpr=2&s=cb8ba324d3d02f0a986ec72f93ffe26f","width":1240},{"src":"https://i.guim.co.uk/img/media/92933a11f2235f009565d141af6f968462725ef2/0_55_4096_2458/master/4096.jpg?width=605&quality=85&auto=format&fit=max&s=84c30f7f64844e39d445cbaa436a02a8″,"width":605},{"src":"https://i.guim.co.uk/img/media/92933a11f2235f009565d141af6f968462725ef2/0_55_4096_2458/master/4096.jpg?width=605&quality=45&auto=format&fit=max&dpr=2&s=dfadcaca2aecd4a75df758ca97566f40″,"width":1210},{"src":"https://i.guim.co.uk/img/media/92933a11f2235f009565d141af6f968462725ef2/0_55_4096_2458/master/4096.jpg?width=445&quality=85&auto=format&fit=max&s=72f814dd7c6faad72edcb65c954ace41″,"width":445},{"src":"https://i.guim.co.uk/img/media/92933a11f2235f009565d141af6f968462725ef2/0_55_4096_2458/master/4096.jpg?width=445&quality=45&auto=format&fit=max&dpr=2&s=161d0a1792f89b17125bac1d8275c4a9″,"width":890}]},{"weighting":"thumbnail","srcSet":[{"src":"https://i.guim.co.uk/img/media/92933a11f2235f009565d141af6f968462725ef2/0_55_4096_2458/master/4096.jpg?width=140&quality=85&auto=format&fit=max&s=6051b010cf3e9527e7b3188d63594b14″,"width":140},{"src":"https://i.guim.co.uk/img/media/92933a11f2235f009565d141af6f968462725ef2/0_55_4096_2458/master/4096.jpg?width=140&quality=45&auto=format&fit=max&dpr=2&s=5165d6f2f26f78f0c292a6c264ac161e","width":280},{"src":"https://i.guim.co.uk/img/media/92933a11f2235f009565d141af6f968462725ef2/0_55_4096_2458/master/4096.jpg?width=120&quality=85&auto=format&fit=max&s=73438766dfde28ba0b919bb59c1cff26″,"width":120},{"src":"https://i.guim.co.uk/img/media/92933a11f2235f009565d141af6f968462725ef2/0_55_4096_2458/master/4096.jpg?width=120&quality=45&auto=format&fit=max&dpr=2&s=ed880e5f85fbb5d56c55aa491e98ae40″,"width":240}]},{"weighting":"supporting","srcSet":[{"src":"https://i.guim.co.uk/img/media/92933a11f2235f009565d141af6f968462725ef2/0_55_4096_2458/master/4096.jpg?width=380&quality=85&auto=format&fit=max&s=6f802f57078d12cee7dadf8d5988d007″,"width":380},{"src":"https://i.guim.co.uk/img/media/92933a11f2235f009565d141af6f968462725ef2/0_55_4096_2458/master/4096.jpg?width=380&quality=45&auto=format&fit=max&dpr=2&s=98651132b206c800ee21bf781b0c8f9a","width":760},{"src":"https://i.guim.co.uk/img/media/92933a11f2235f009565d141af6f968462725ef2/0_55_4096_2458/master/4096.jpg?width=300&quality=85&auto=format&fit=max&s=1ca03979826113ecffb2cdccf9c97b7b","width":300},{"src":"https://i.guim.co.uk/img/media/92933a11f2235f009565d141af6f968462725ef2/0_55_4096_2458/master/4096.jpg?width=300&quality=45&auto=format&fit=max&dpr=2&s=c939431398dde272ecdbd42073a0ee7d","width":600},{"src":"https://i.guim.co.uk/img/media/92933a11f2235f009565d141af6f968462725ef2/0_55_4096_2458/master/4096.jpg?width=620&quality=85&auto=format&fit=max&s=0d38443cd68c26cf3fcbdacfe2ec6331″,"width":620},{"src":"https://i.guim.co.uk/img/media/92933a11f2235f009565d141af6f968462725ef2/0_55_4096_2458/master/4096.jpg?width=620&quality=45&auto=format&fit=max&dpr=2&s=cb8ba324d3d02f0a986ec72f93ffe26f","width":1240},{"src":"https://i.guim.co.uk/img/media/92933a11f2235f009565d141af6f968462725ef2/0_55_4096_2458/master/4096.jpg?width=605&quality=85&auto=format&fit=max&s=84c30f7f64844e39d445cbaa436a02a8″,"width":605},{"src":"https://i.guim.co.uk/img/media/92933a11f2235f009565d141af6f968462725ef2/0_55_4096_2458/master/4096.jpg?width=605&quality=45&auto=format&fit=max&dpr=2&s=dfadcaca2aecd4a75df758ca97566f40″,"width":1210},{"src":"https://i.guim.co.uk/img/media/92933a11f2235f009565d141af6f968462725ef2/0_55_4096_2458/master/4096.jpg?width=445&quality=85&auto=format&fit=max&s=72f814dd7c6faad72edcb65c954ace41″,"width":445},{"src":"https://i.guim.co.uk/img/media/92933a11f2235f009565d141af6f968462725ef2/0_55_4096_2458/master/4096.jpg?width=445&quality=45&auto=format&fit=max&dpr=2&s=161d0a1792f89b17125bac1d8275c4a9″,"width":890}]},{"weighting":"showcase","srcSet":[{"src":"https://i.guim.co.uk/img/media/92933a11f2235f009565d141af6f968462725ef2/0_55_4096_2458/master/4096.jpg?width=860&quality=85&auto=format&fit=max&s=3ffe3f4dae553dcddd743a6e4d12c802″,"width":860},{"src":"https://i.guim.co.uk/img/media/92933a11f2235f009565d141af6f968462725ef2/0_55_4096_2458/master/4096.jpg?width=860&quality=45&auto=format&fit=max&dpr=2&s=b49ddb51c785e639e2798ad3e0a7a980″,"width":1720},{"src":"https://i.guim.co.uk/img/media/92933a11f2235f009565d141af6f968462725ef2/0_55_4096_2458/master/4096.jpg?width=780&quality=85&auto=format&fit=max&s=03be9050eb3e26f50b79341ae9fb070c","width":780},{"src":"https://i.guim.co.uk/img/media/92933a11f2235f009565d141af6f968462725ef2/0_55_4096_2458/master/4096.jpg?width=780&quality=45&auto=format&fit=max&dpr=2&s=3e90bebb3d4a2f744d1f39683c92bb24″,"width":1560},{"src":"https://i.guim.co.uk/img/media/92933a11f2235f009565d141af6f968462725ef2/0_55_4096_2458/master/4096.jpg?width=620&quality=85&auto=format&fit=max&s=0d38443cd68c26cf3fcbdacfe2ec6331″,"width":620},{"src":"https://i.guim.co.uk/img/media/92933a11f2235f009565d141af6f968462725ef2/0_55_4096_2458/master/4096.jpg?width=620&quality=45&auto=format&fit=max&dpr=2&s=cb8ba324d3d02f0a986ec72f93ffe26f","width":1240},{"src":"https://i.guim.co.uk/img/media/92933a11f2235f009565d141af6f968462725ef2/0_55_4096_2458/master/4096.jpg?width=605&quality=85&auto=format&fit=max&s=84c30f7f64844e39d445cbaa436a02a8″,"width":605},{"src":"https://i.guim.co.uk/img/media/92933a11f2235f009565d141af6f968462725ef2/0_55_4096_2458/master/4096.jpg?width=605&quality=45&auto=format&fit=max&dpr=2&s=dfadcaca2aecd4a75df758ca97566f40″,"width":1210},{"src":"https://i.guim.co.uk/img/media/92933a11f2235f009565d141af6f968462725ef2/0_55_4096_2458/master/4096.jpg?width=445&quality=85&auto=format&fit=max&s=72f814dd7c6faad72edcb65c954ace41″,"width":445},{"src":"https://i.guim.co.uk/img/media/92933a11f2235f009565d141af6f968462725ef2/0_55_4096_2458/master/4096.jpg?width=445&quality=45&auto=format&fit=max&dpr=2&s=161d0a1792f89b17125bac1d8275c4a9″,"width":890}]},{"weighting":"halfwidth","srcSet":[{"src":"https://i.guim.co.uk/img/media/92933a11f2235f009565d141af6f968462725ef2/0_55_4096_2458/master/4096.jpg?width=620&quality=85&auto=format&fit=max&s=0d38443cd68c26cf3fcbdacfe2ec6331″,"width":620},{"src":"https://i.guim.co.uk/img/media/92933a11f2235f009565d141af6f968462725ef2/0_55_4096_2458/master/4096.jpg?width=620&quality=45&auto=format&fit=max&dpr=2&s=cb8ba324d3d02f0a986ec72f93ffe26f","width":1240},{"src":"https://i.guim.co.uk/img/media/92933a11f2235f009565d141af6f968462725ef2/0_55_4096_2458/master/4096.jpg?width=605&quality=85&auto=format&fit=max&s=84c30f7f64844e39d445cbaa436a02a8″,"width":605},{"src":"https://i.guim.co.uk/img/media/92933a11f2235f009565d141af6f968462725ef2/0_55_4096_2458/master/4096.jpg?width=605&quality=45&auto=format&fit=max&dpr=2&s=dfadcaca2aecd4a75df758ca97566f40″,"width":1210},{"src":"https://i.guim.co.uk/img/media/92933a11f2235f009565d141af6f968462725ef2/0_55_4096_2458/master/4096.jpg?width=445&quality=85&auto=format&fit=max&s=72f814dd7c6faad72edcb65c954ace41″,"width":445},{"src":"https://i.guim.co.uk/img/media/92933a11f2235f009565d141af6f968462725ef2/0_55_4096_2458/master/4096.jpg?width=445&quality=45&auto=format&fit=max&dpr=2&s=161d0a1792f89b17125bac1d8275c4a9″,"width":890}]},{"weighting":"immersive","srcSet":[{"src":"https://i.guim.co.uk/img/media/92933a11f2235f009565d141af6f968462725ef2/0_55_4096_2458/master/4096.jpg?width=1900&quality=85&auto=format&fit=max&s=f6dcec3c4ca58b62a8a048936257a880″,"width":1900},{"src":"https://i.guim.co.uk/img/media/92933a11f2235f009565d141af6f968462725ef2/0_55_4096_2458/master/4096.jpg?width=1900&quality=45&auto=format&fit=max&dpr=2&s=66f7acc136d5e179106e812b2fce0439″,"width":3800},{"src":"https://i.guim.co.uk/img/media/92933a11f2235f009565d141af6f968462725ef2/0_55_4096_2458/master/4096.jpg?width=1300&quality=85&auto=format&fit=max&s=fac6b805bd8666a79767eaa903c03e92″,"width":1300},{"src":"https://i.guim.co.uk/img/media/92933a11f2235f009565d141af6f968462725ef2/0_55_4096_2458/master/4096.jpg?width=1300&quality=45&auto=format&fit=max&dpr=2&s=58b835e4e0e98646ba93bc5119abec79″,"width":2600},{"src":"https://i.guim.co.uk/img/media/92933a11f2235f009565d141af6f968462725ef2/0_55_4096_2458/master/4096.jpg?width=1140&quality=85&auto=format&fit=max&s=2a83be0403c37d487ec1357d33ae5481″,"width":1140},{"src":"https://i.guim.co.uk/img/media/92933a11f2235f009565d141af6f968462725ef2/0_55_4096_2458/master/4096.jpg?width=1140&quality=45&auto=format&fit=max&dpr=2&s=676ab0070431dd87b7b75eb11a375fbb","width":2280},{"src":"https://i.guim.co.uk/img/media/92933a11f2235f009565d141af6f968462725ef2/0_55_4096_2458/master/4096.jpg?width=980&quality=85&auto=format&fit=max&s=9e4597dd56366547963e04f970477bee","width":980},{"src":"https://i.guim.co.uk/img/media/92933a11f2235f009565d141af6f968462725ef2/0_55_4096_2458/master/4096.jpg?width=980&quality=45&auto=format&fit=max&dpr=2&s=507bd81238c0a0405b4687582ce70c11″,"width":1960},{"src":"https://i.guim.co.uk/img/media/92933a11f2235f009565d141af6f968462725ef2/0_55_4096_2458/master/4096.jpg?width=740&quality=85&auto=format&fit=max&s=8bf1d6734263a435e278fc6209550498″,"width":740},{"src":"https://i.guim.co.uk/img/media/92933a11f2235f009565d141af6f968462725ef2/0_55_4096_2458/master/4096.jpg?width=740&quality=45&auto=format&fit=max&dpr=2&s=cc66f9c64bc32c933360c715cd9fa366″,"width":1480},{"src":"https://i.guim.co.uk/img/media/92933a11f2235f009565d141af6f968462725ef2/0_55_4096_2458/master/4096.jpg?width=660&quality=85&auto=format&fit=max&s=8130f65246a33faf6e4ac9faec9ba005″,"width":660},{"src":"https://i.guim.co.uk/img/media/92933a11f2235f009565d141af6f968462725ef2/0_55_4096_2458/master/4096.jpg?width=660&quality=45&auto=format&fit=max&dpr=2&s=b61361a1f02fb9663357bb72f1cfbdfa","width":1320},{"src":"https://i.guim.co.uk/img/media/92933a11f2235f009565d141af6f968462725ef2/0_55_4096_2458/master/4096.jpg?width=480&quality=85&auto=format&fit=max&s=11464683dd1578ad88f066cad377e7b6″,"width":480},{"src":"https://i.guim.co.uk/img/media/92933a11f2235f009565d141af6f968462725ef2/0_55_4096_2458/master/4096.jpg?width=480&quality=45&auto=format&fit=max&dpr=2&s=656b6bc02300608c8028488e15c1e9f7″,"width":960}]}],"elementId":"b645272f-a19b-4b6f-8929-7bfff7362216″}],"attributes":{"pinned":false,"keyEvent":true,"summary":false},"blockCreatedOn":1665338735000,"blockCreatedOnDisplay":"14.05 EDT","blockLastUpdated":1665339279000,"blockLastUpdatedDisplay":"14.14 EDT","blockFirstPublished":1665338774000,"blockFirstPublishedDisplay":"14.06 EDT","blockFirstPublishedDisplayNoTimezone":"14.06″,"title":"Goal! 5min: Everton 1-0 Manchester United (Iwobi)","contributors":[],"primaryDateLine":"Sun 9 Oct 2022 16.01 EDT","secondaryDateLine":"First published on Sun 9 Oct 2022 13.02 EDT"},{"id":"63430c4f8f085c1507510e3e","elements":[{"_type":"model.dotcomrendering.pageElements.TextBlockElement","html":"

The crowd roar as Manchester United begin the match.

","elementId":"c4cf48b2-2768-49e2-ab99-ebaf3a4f1171″}],"attributes":{"pinned":false,"keyEvent":true,"summary":false},"blockCreatedOn":1665338447000,"blockCreatedOnDisplay":"14.00 EDT","blockLastUpdated":1665338475000,"blockLastUpdatedDisplay":"14.01 EDT","blockFirstPublished":1665338475000,"blockFirstPublishedDisplay":"14.01 EDT","blockFirstPublishedDisplayNoTimezone":"14.01″,"title":"First half kick-off!","contributors":[],"primaryDateLine":"Sun 9 Oct 2022 16.01 EDT","secondaryDateLine":"First published on Sun 9 Oct 2022 13.02 EDT"},{"id":"634302048f085c1507510de1″,"elements":[{"_type":"model.dotcomrendering.pageElements.TextBlockElement","html":"

The England forward Dominic Calvert-Lewin, after a seemingly interminable injury lay-off, takes his place on the bench for Everton, the first time he's been in a match day squad this season. Anthony Gordon comes back in to the side with Dwight McNeil dropping to the bench – the only change to the team made by Lampard from the win against Southampton.

","elementId":"d1b92e75-e737-4914-988a-c2a762b026ec"},{"_type":"model.dotcomrendering.pageElements.TextBlockElement","html":"

For the visitors, Casemiro makes his first Premier League start, so it will be fascinating to see how he gets on. Luke Shaw, Anthony Martial and Marcus Rashford come into the starting side for Tyrell Malacia, Jadon Sancho and Cristiano Ronaldo, who were in the XI for the win over Omonia.

","elementId":"194e18fe-ffd0-44e8-a96d-f6d415db9084″},{"_type":"model.dotcomrendering.pageElements.TextBlockElement","html":"

Everton: Pickford, Coleman, Coady, Tarkowski, Mykolenko, Onana, Gueye, Iwobi, Gray, Maupay, Gordon. Substitutes: Keane, McNeil, Calvert-Lewin, Begovic, Davies, Ruben Vinagre, Rondon, Garner, John.

","elementId":"a2ff58ff-9042-464f-865d-99f09252cbb4″},{"_type":"model.dotcomrendering.pageElements.TextBlockElement","html":"

Man Utd: de Gea, Dalot, Lindelof, Martinez, Shaw, Casemiro, Eriksen, Antony, Bruno Fernandes, Rashford, Martial. Substitutes: Ronaldo, Malacia, Fred, Varane, Heaton, Sancho, Pellistri, Elanga, McTominay.

","elementId":"a1787a67-a055-4b57-a719-77931038f92f"}],"attributes":{"pinned":false,"keyEvent":true,"summary":false},"blockCreatedOn":1665335812000,"blockCreatedOnDisplay":"13.16 EDT","blockLastUpdated":1665336447000,"blockLastUpdatedDisplay":"13.27 EDT","blockFirstPublished":1665335866000,"blockFirstPublishedDisplay":"13.17 EDT","blockFirstPublishedDisplayNoTimezone":"13.17″,"title":"Teams","contributors":[],"primaryDateLine":"Sun 9 Oct 2022 16.01 EDT","secondaryDateLine":"First published on Sun 9 Oct 2022 13.02 EDT"},{"id":"63414bbf8f088272fbb9e086″,"elements":[{"_type":"model.dotcomrendering.pageElements.TextBlockElement","html":"

Things are going rather nicely at Everton lately. Last weekend's 2-1 comeback victory at Southampton backed up a gritty 1-0 home win against Everton a couple of weeks ago. A third successive Premier League victory would see Everton move above today's opponents, Manchester United, and into seventh place in the Premier League.

","elementId":"f1e59e98-e0ed-4c46-9502-bcb272f408dc"},{"_type":"model.dotcomrendering.pageElements.TextBlockElement","html":"

Frank Lampard seems to be gradually imbuing his squad with the same work ethic and will to win that he brought to his own playing career. His Goodison Park 'project' is progressing, and three points against Manchester United would be significant and very welcome step in the right direction.

","elementId":"1920b00b-cf51-4a65-9c7a-18cd27d18edc"},{"_type":"model.dotcomrendering.pageElements.TextBlockElement","html":"

On the other hand today's visitors were not the first, and certainly won't be the last, team to be torn apart by Erling Haaland and Kevin De Bruyne. Erik ten Hag's side managed a 3-2 comeback win against Omonia in midweek, and it remains to be seen if that 6-3 derby drubbing will usher in a downturn in their domestic form. Can they Get Back To Winning Ways™ in the league? There remain no guarantees in life – aside of course from Haaland scoring – and this one could go either way.

","elementId":"607f63e4-7e34-49ca-bb61-717506febf13″},{"_type":"model.dotcomrendering.pageElements.TextBlockElement","html":"

Kick-off: 7pm

","elementId":"5ef0160b-73fa-4c4d-a89e-f2d8b5211367″}],"attributes":{"pinned":false,"keyEvent":true,"summary":false},"blockCreatedOn":1665334975000,"blockCreatedOnDisplay":"13.02 EDT","blockLastUpdated":1665335659000,"blockLastUpdatedDisplay":"13.14 EDT","blockFirstPublished":1665334975000,"blockFirstPublishedDisplay":"13.02 EDT","blockFirstPublishedDisplayNoTimezone":"13.02″,"title":"Preamble","contributors":[],"primaryDateLine":"Sun 9 Oct 2022 16.01 EDT","secondaryDateLine":"First published on Sun 9 Oct 2022 13.02 EDT"}],"filterKeyEvents":false,"format":{"display":0,"theme":2,"design":10},"id":"key-events-carousel-mobile"}">

Key events
United are officially Back To Winning Ways™
Fernandes has a chat with BT Sport: "We know when they have a corner sometimes it seems like a goal for them … they are dangerous here especially with their supporters … we defended really well. Great block from Marcus at the end."
Des Kelly says they had a terrible start. "We didn't have a terrible start but we conceded a goal from nothing … anyway, three big points for us.
"We want to show this spirit, this togetherness … it's really important we carry this on."
United do look like a unit, they look like they are fighting for each other, for the first time in a while. I didn't think they were that terrible against City last week despite the scoreline, either. Ten Hag is definitely having an effect.
"Greetings from Tucson Az," William emails. "When McTominay came on, my wife said "lets see how fast he gets a yellow". Didn't take long. Have a great day."
Full time! Everton 1-2 Manchester United
C'est fini. An entertaining affair. Manchester United are up to fifth. Lampard and Ten Hag shake hands politely. Lampard then goes and shares a joke with Casemiro.
90 mins + 4: Pickford gets something on the first corner with his head. Everton win another corner, then another … Garner has a shot on the volley, which is blocked, and that's it!
90 mins +3: Everton have another few bashes. United repels the danger. But Everton have a corner… Pickford comes up for it.
90 mins + 1: Brilliant save by De Gea! Garner bends a shot towards the far post, and it's dropping in through a crowd of bodies, but De Gea gets a hand to it and beats it out.
Casemiro gets man of the match, which is an odd one. He's been very up and down, to say the least.
90 mins: Gray buys a yard of space on the Everton left, and whips a cross into the middle. Onana is there to head it but he can't get the required contact to get it on target, and it flies wide.
88 mins: Onana passes to Iwobi on the right wing, and he bends a deep cross towards the far post, but there is no one there to meet it for Everton. McNeil then has a go, but De Gea pouches the cross easily.
87 mins: Lampard has been speaking recently about improving Everton's character and spirit … it would certainly be a good show of character to nab a point here. Goal Manchester United have possession, and in Everton's half.
85 mins: Rondon comes on for Everton, for Maupay. McTominay is also on for Manchester United in place of Eriksen, and is promptly booked for a tackle on Gray. His fifth yellow card of the season, and he'll be banned next week.
83 mins: Rashford did very well all-round there, despite the disallowed goal. He looks to be getting back to his best form. Ronaldo also did well to flick the long ball on. But on the downside, Iwobi was beaten far too easily by Rashford before he went on to beat Tarkowski and bundle past Pickford. It's been a difficult night for Iwobi, aside from his brilliant opening goal.
Disallowed goal! 80 mins: (Rashford)
That was always the danger for Everton…is that it…but hang on. He's been pulled up for handball. No goal.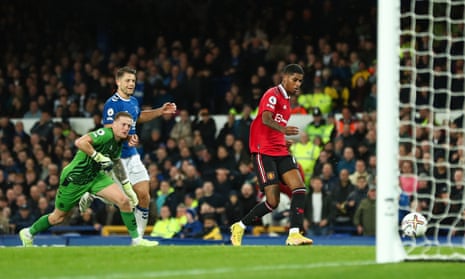 79 mins: Iwobi feeds McNeil, who curls a cross to the far post looking for Calvert-Lewin. He can't get on the end of it.
77 mins: Garner tries to play in Maupay on the edge of the box, but United win it back. The visitors looks to build from the back, Ronaldo teeing up Casemiro in the centre. Casemiro hits a horrible attempted first-time pass and loses possession. He's demonstrated his considerable talent at times, but understandably looks a bit off the pace this evening, this being his first Premier League start for the club.
75 mins: Coleman goes off for James Garner … Gueye is taken off for Calvert-Lewin, whose introduction brings a roar from the crowd. He's finally back after a long lay-off with a knee injury.
74 mins: Tarkowski is upended by Fernandes in the Everton half. The home crowd wails its disapproval. It looks like Dominic Calvert-Lewin is going to come on for Everton …
71 mins: Rashford slips a ball to Fernandes on the United left. He tries to scoop an outside-of-the-boot cross for Ronaldo at the far post goal Pickford gathers.
70 mins: Onana heads over the bar from a corner for Everton. Can they find a way to get back on terms?
68 mins: Maupay and Gray link up in attack for Everton. The hosts exert a bit of sustained pressure for the first time in a while … the problem is United's pace on the counter, of course. Everton need to chase the game but they will be picked off if they commit too many men forward.
66 mins: Onana and Gueye link brilliantly on the left wing for Everton, and they create space for a cross to be sent in Gordon's direction at the far post. He can't make meaningful contact … United counter at lightning pace, and Coleman has to make a desperate last-ditch block to stop a cross from finding Ronaldo at the far post.
Gordon now goes off, Dwight McNeil comes on for Everton.
62 mins: And as if by magic … Fernandes has the ball on the United left. Gordon runs in from behind and upends him, taking the ball and a LOT of the man. There is a bit of afters. Gordon is booked. From the resulting set piece Eriksen bends a cross goalwards. Someone could easily get a touch to deflect it into the goal, but Pickford gratefully collects the ball after one bounce.
60 mins: On Lampard's potential report card for his players, you'd fancy he'd like to see Everton snapping into tackles a bit more and making life harder for Manchester United, thereby getting this very noisy crowd behind them. Ten Hag's men are controlling things at the moment.
58 mins: Eriksen sprays a ball out to Antony on the United right, who cuts it back for Casemiro to cross first-time. Ronaldo leaps at the far post to head it but he can't get over the ball and it balloons out for a goal kick. Fernandes, who was behind him, looks aghast, apparently believing he was in a better position to apply a finish than in his compatriot. But it looked like it was offside anyway.
56 mins: Gray digs out a decent cross from the Everton left, intended for Maupay, but he can't get on the end of it. Another ball is pumped into the Manchester United penalty area by Onana and Iwobi meets it with a header but United clear their lines.
55 mins: Now Casemiro leaves a foot in on Onana. It's a free-kick but no booking. Onana isn't happy, and refuses Casemiro's offer of a friendly handshake. You can see Onana's point, it was a similarly bad challenge to the one he was booked for.
52 mins: Ronaldo does well to win a corner off Tarkowski. United work the ball to Casemiro from the set-piece, who is lurking in a central position outside the area. He has time to line up a shot, but it skews wide.
51 mins: Onana miscontrols in midfield and is booked for a clumsy crowd on Antony in the center circle.
48 mins: The visitors attack again. Ronaldo looks to slide in Antony, but the ball squirts away from him and through to Pickford. In general, Manchester United have far more control in possession. Considering they have Eriksen and Fernandes, among others, that's probably only to be expected. It's a tough assignment for Iwobi, whom Lampard is trying to convert into a central midfielder.
46 mins: Shaw and Gordon go shoulder-to-shoulder on the Everton right. Shaw wins, Manchester United have the ball back, and build an attack into the Everton half. Rashford slides a good-looking pass to Eriksen, who crosses from the left wing. Everton concede a corner.
Here we go.
Watching the replays, Casemiro actually lost the ball in amateurish fashion a couple of seconds before winning it back from Iwobi and creating the second goal for Ronaldo. Funny old game, isn't it.
HT reading:
Half time! Everton 1-2 Manchester United
A highly eventful and entertaining first half.
"Despite the goal, Ronaldo should not be at United as evidenced by his petulance," Jeff Sachs emails. "Ten Hag doesn't have the brass to keep him on the bench. MU will go nowhere this season as a result."
Well, Ten Hag did have him on the bench tonight. And that last few minutes is Ronaldo in microcosm: he arguably cost his team a goal with lazy positioning, then goes and does something totally brilliant, and scores his 700th club goal, to boot.
44 mins: That is very, very high-class midfield play by Casemiro. Iwobi has the ball and is making a run veering out to the Everton right. Casemiro picks his pocket, seemingly appearing from nowhere and cleanly whipping the ball off his opponent's toes. He's not finished there, though, and immediately side-foots a clinical low pass into the channel for Ronaldo, who sprints on to it, takes it in towards goal, and hammers a shot under Pickford. Really high-quality stuff.
Goal! 44 mins: Everton 1-2 Man Utd (Ronaldo's 700th club goal)
Class finish, even classier assist by Casemiro … and that is Ronaldo's 700th club goal. Incredible!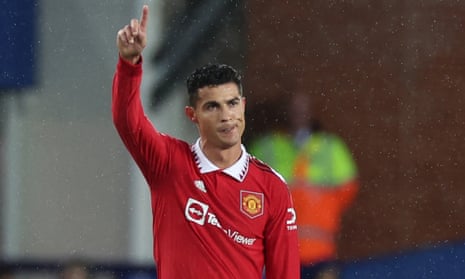 43 mins: Casemiro sends a header fractionally wide! Rashford has the ball out on the United left. The Brazilian dashes into the penalty area, no one picks him up, and Rashford finds him with a good curling ball. Casemiro heads it, but it bounces just wide!