The New Year is upon us!
Many people choose to get fit as a New Year's resolution as they also hope to shed a few pounds in 2023.
A twist on the typical cardio workout could jumpstart your own New Year's resolution — and it involves a mini trampoline.
LOSE WEIGHT, EAT HEALTHY AND MAKE MONEY: AMERICANS REVEAL THEIR 2023 NEW YEAR'S RESOLUTIONS
EvolveYou's Melissa Kendter, a personal trainer who has a bachelor's degree from Delaware Valley University, joined "Fox & Friends" on Monday morning to show ways to incorporate low-impact, cardio workouts with a mini trampoline in the comfort of your home.
She recommended starting with a light bounce to obtain balance.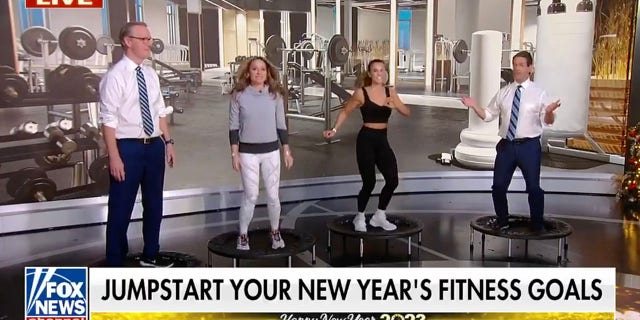 "Get in an athletic stance. Core is tight. Bottom back a bit…slightly bounce," she said.
FORGET THE NEW YEAR'S RESOLUTION — TRY THE 'MONDAY RESET' INSTEAD
Kendter said that as people get more comfortable with the trampoline, they can add their arms to the mix.
"It's all about building healthy clothes in the New Year."
For additional balance, Kendter recommended getting a stick or sturdy bar of some sort to hold onto if needed.
The mini trampoline can also be used for more than just jumping, she said.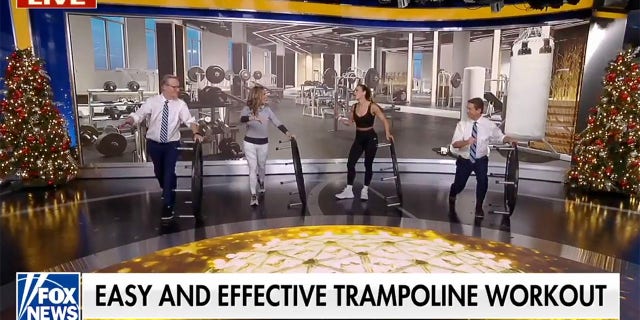 Kendter showed how to use the trampoline as a stability tool for lunges.
She also recommended using it to help with a core exercise — sitting on the trampoline and engaging your core while moving your legs in and out.
NEW YEAR'S RESOLUTION: 'BIBLE MEMORY MAN' SHARES TIPS FOR MEMORIZING THE BIBLE IN 2023
Kendter said the trampoline can also be used as a tool for elevated push-ups, for the ultimate full body exercise move.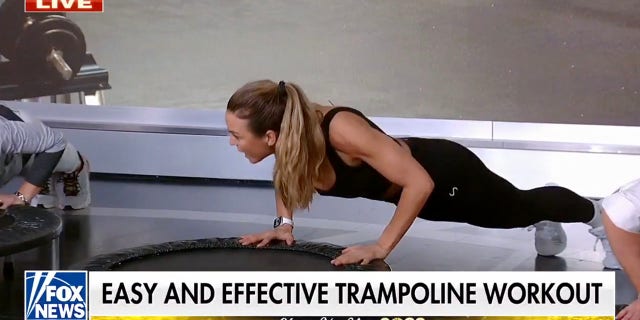 To end the circuit, Kendter recommended getting back on the trampoline and jumping with a twist in the waist.
"It's all about building healthy clothes in the New Year," she said.
For those who need to modify the trampoline jumping, Kendter recommended simply bouncing instead.
"You don't have to jump up in the air — you can just bounce," she said.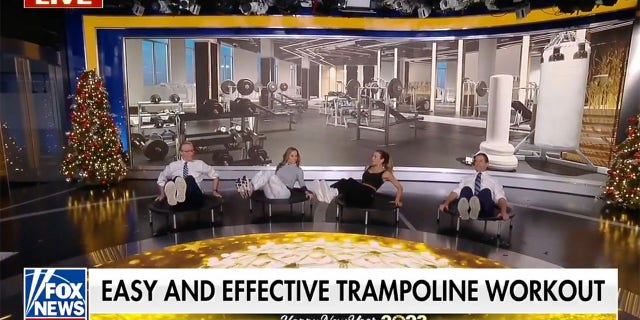 Kendter recommended looking online for a mini trampoline for purchase.
She said they can range from $50 to $500.
The fitness instructor recommended checking out local exercise facilities to see if they offer any trampoline fitness classes.
"Everything should be sustainable and maintainable, so we can build long-term success," she said.
CLICK HERE TO GET THE FOX NEWS APP
Plus, it's fun!
Kendter is a functional training specialist, a run coach and a certified personal trainer. She owns her own private studio as well.
CLICK HERE TO SIGN UP FOR OUR LIFESTYLE NEWSLETTER
For more information on mini fitness trampoline, visit trainmk.com.